Nepal is famous for its trekking destinations, and there are many 2-day treks that offer a taste of the country's beautiful mountains and rich culture. These treks typically take you through traditional villages, lush forests, and terraced farmland, with stunning views of the Himalayas.
Nepal has always been an attractive destination for travelers. From its varied landscapes to authentic food and self-sufficient culture, the country has received much attention, with visitors flocking from around the world.
It's a trekker's utopia with many places to visit and explore. There are endless options for hikers to enjoy a walk near and far from the city. From family-friendly hikes to grueling mountain treks, Nepal boasts innumerable picturesque walks, which provide an unforgettable experience.
It has many long-distance and challenging treks, which are adventurous but not fitting for short getaways. So, if you're planning a weekend trip, it's not worth taking these treks. You should rather do short hikes, which are convenient and moderate.
They are easily accessible and don't require much time. You can finish these treks in as little as two days without missing the spirit of traveling afar. They also provide you with a great view of Himalayan ranges, lush meadows, and deep valleys. To help you pick the right destination, we've prepared a list of 5 best 2 days treks in Nepal.
 Poon Hill Trek -2 Days Itinerary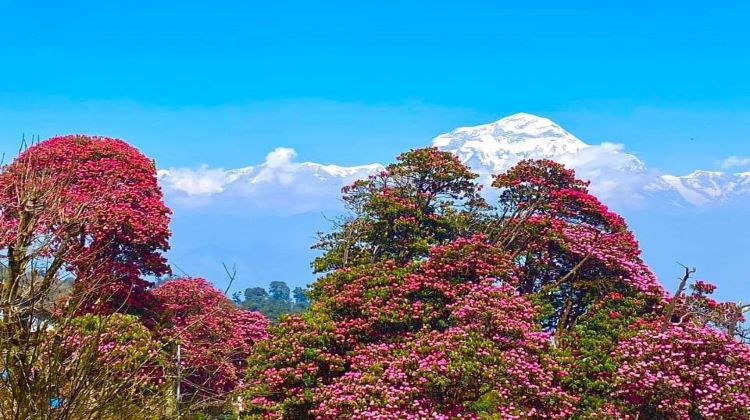 2 Days Poon hill Trek is best for you. Poon Hill is an incredible hike for  All types of hiker, Poon hill is  Located at the frontier between Myagdi and Kaski,  . The hill station is an ideal spot for trekkers and nature lovers who appreciates nature and its unparalleled beauty.
It's one of the best 2 days hikes in Nepal, where trekkers will discover varied landscapes and cliff tops. You'll get the opportunity to explore its unique flora and fauna along with the breathtaking sights in a short space of time.
Trek to Poon Hill begins with a three hours scenic drive to Sudame via Nayapul. You'll further continue by escaping its rugged trail and driving up to Tirkhedunga. Early in the day, you'll navigate an off-road trail that extends up to Ghorepani and takes almost 7 hours.
After spending the night in the village, you'll continue the second section of the trek and climb Poon Hill to watch the beautiful sunrise from the viewpoint. In these 2 days, you'll pass many beautiful villages, ascend steep hills and walk lush meadows.
The trek will take you through dense tropical forests full of rhododendron, pine, and birch. It rewards you with the uninterrupted view of Annapurna massif, Dhaulagiri, Machhapuchre, and Gangapurna.
.
 Itinerary
Day 01: Pokhara to drive Hile The trek to Ghorepani -7 hour
Day 02: Climb to Poon hill enjoy Sunrise and Back t Nayapul -drive back Pokhara

Australian Camp  Trek – 2 Days

Australian Camp of Annapurna region is a great hotspot for trekkers wishing to creep into nature. It's probably one of the most scenic walks with a breathtaking view of surrounding hills and lofty mountains.
Located in the Annapurna region, Australian Camp Trek is a 26km moderate hike featuring steep hills, strenuous climbs, and dense forests. The trek starts a one-hour drive away from Pokhara at Kande. It takes one hour and a half to walk the trail before arriving at the camp.
During the trek, you'll pass through varied ecosystems, from wetlands to tropical forests. The trial will take you through pine and rhododendron forest, which looks incredible. The view from the camp is impeccable and overwhelming
Itinerary
Day 01: Drive to kande and trekking to Australian Camp – 2 hour
Day 02: Trek to Dhampus – Phedi – drive back Pokhara.
Nagarkot Changunarayan Treks -2 Days

Nagarkot Changunarayan Hike is a gem in the outskirt of Kathmandu. It's a perfect weekend getaway where travelers can enjoy a bit of everything, lifestyle, culture, food, and history. They can take a road trip and a leisurely walk on the panoramic hiking trail of Nagarkot, which has great things in store.
The trek has scenic vistas and landscapes to offer hikers. Nagakot's eco trail will pave your way through its alpine forests, high cliffs, and river banks before reaching the hilltop. It'll pass many small villages and colorful towns, which are quite impressive and eye-catching.
After 3 hours of ascending, the trek will provide you with a spectacular view of Jugal range, Annapurna, Langtang, and Numbur. It also offers you a glimpse of wide terraced fields and mountain villages. You'll spend a day at Nagarkot before heading to Changunarayan in Bhaktapur.
Located just outside the city, Changunarayan is a popular tourist attraction. It's known for its scenic landscapes, archeological sites, and beautiful villages. The major highlight of the trek is its religious shrines and historical places, including Changunarayan temple itself, which sits on a high hilltop.
Itinerary
Day 01: Drive to Dhulikhel – hike to Nagarkot
Day 02: Sunrise view from nagarkot and Hike to Changunarayan  and  drive back to Kathmandu
Astam Village Trek -2 days

There's something magical about Astham that's indefinable and incomparable. Everything about this village is mind-blowing, from its serenity to its authenticity and charm. Its vibrance and vicinity to nature are unparalleled and astonishing, making it a perfect 2 days trek in Nepal.
Nestled 20km northwest of Pokhara at 1,600 meters above sea level, Asthma is an eco-friendly village. It's a timeless beauty with dreamy landscapes, rolling hills, and postcard villages overlooking a verdant valley. To explore it, you have to travel 20km northwest of Pokhara and then walk its varied terrain.
Although short, they are quite unique and strikingly beautiful, with surrounding green hills and lofty mountains. You can watch the sunset from the hilltop. You can walk through the villages in the daytime and learn about the locals and their culture. Enjoy the taste of Nepali village life and a pristine mountain view from the crest.
Nagarkot  Dhulikhel Panauti -2 Days
Dhulikhel Namoboudha Panauti Trek is a short and sweet hike around Dhulikhel and Kavrepalanchowk. It's one of the trekker's favorites who plan to stay in Nepal for as few as two days. The trek is simple but jam-packed with unreal natural landmarks and unique topography.
The itinerary includes a walk through quaint villages and farms of Dhulikhel. You'll ascend the hill station on the first day of the trek, which provides a breathtaking view of sweeping hills and lush green meadows.
You can enjoy a beautiful sunrise view from the hilltop. Many old pilgrimages and Hindu shrines in the ancient town of Dhulikhel display Newari craftsmanship. You can visit here and explore its beautiful medieval cities, religious shrines, and galleries.
Take a 3-hour walk from Dhulikhel to discover the unreal beauty of Namobouddha, a sacred Buddhist pilgrimage. It's only 2.3km from a Tamang village called Manegauan and 40km southeast of Kathmandu. To get here, you'll have to trek through its forest and climb to the top of the hill where the famous monastery lies.
About 32km off the southeast of Kathmandu, Panauti is another to-be UNESCO world heritage site with prominent religious places and historical landmarks. It's an incredible town bursting with rich history and culture. The trail to this village is great for hiking as it's mild and can be done under three hours
you May  Interested