Mt. Everest – is the ultimate goal for trekkers and mountaineers, as well as an object of desire for every traveler that sets foot in Nepal. This beautiful and majestic mountain is no less than a peak of perfection. Surprisingly, there are many viewpoints you can choose from to see this great natural wonder.
The Everest trekking offers adventurers a great opportunity to take the rhythm of this magnificent mountain. And when it comes to choosing the perfect place for snapping that Instagram-worthy shot, you should bear in mind that there are many nearby sights to checkout. However, not all of them provide guests with the same level of satisfaction or taste.
Choosing the best place to view Mount Everest can be difficult. Where should you go with so many points of interest, viewpoints, and destinations? Only by carefully considering the main factors and then comparing them will you be able to choose the perfect place to see Everest.
Kalapatthar View Point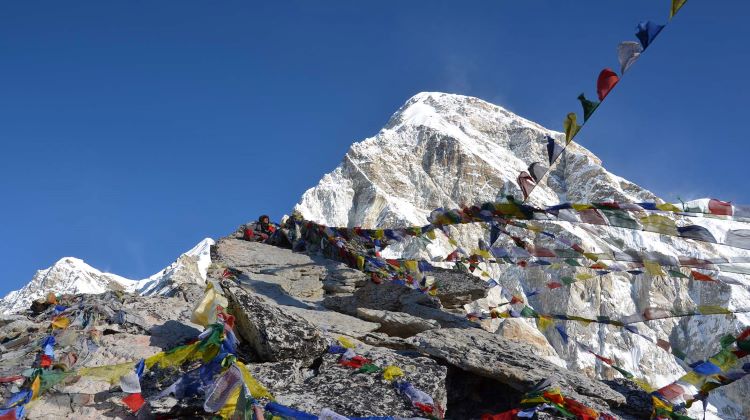 Kala Patthar, or black rock, Is a remarkable landmark positioned at the south ridge of Pumori in the Nepali Himalayas above Gorakshep. It is also notable for its particularly close access to the Khumbu ice fall, one of the most dangerous parts of the route to Mt. Everest from the Nepal side.
Several other expeditions in the Khumbu region also try to reach Kala Patthar as a major goal or stop along their route, including those to Pumori itself, as well as attempts on Everest via the South Col and Southeast Ridge, and attempts on Nuptse.  Most climbers whose ultimate goal is Everest base camp will make a side trip to Kala Pattar since it offers easier access than Everest base camp itself, yet provides excellent views of Everest along with other peaks such as Lhotse, Nuptse, and many more.
It is most famous for the views of Mount Everest it offers. The views are particularly dramatic at sunrise and sunset as the top of Everest glows pink while the rest of the mountain remains dark purple. Kala Patthar is also part of an established trekking route.
The base camp for Everest expeditions lies a little over 5 kilometers (3 mi) to the northeast, and trekkers often make a side
trip to climb Kala Patthar after reaching Everest Base Camp.
Kala Patthar can be easily reached by the average trekker and there are two main routes to reach Kala Patthar: Gorak Shep and Pheriche. From Gorak Shep, it typically takes about 3 hours to reach Kala Patthar by hiking. From Pheriche, it takes about 4 hours to reach Kala Patthar. Climbing Kala Patthar is relatively moderate and can be done by anyone who is in good shape
and has a reasonable level of fitness to reach its height of 5,550 m (18,204 ft).
It is better to mention that the next major objective you should conquer when you reach the Everest base camp is Kala Patthar. Because you cannot get a full view of Everest from the base camp.
Gokyo Ri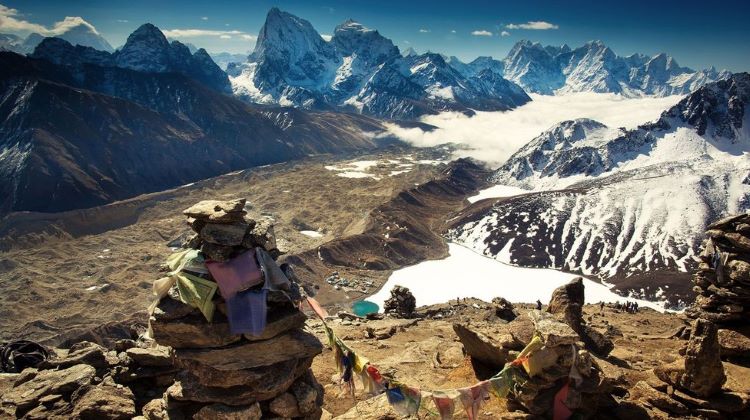 The Gokyo RI trek is a great alternative to the usual Everest Base Camp trek. It leads you through the same beautiful Sagarmatha National Park as the EBC trek, with some changes in scenery. You wll also pass through a couple of remote villages and cross some high passes.
Gokyo Ri, located in the Khumbu region of Nepal, is one of the most popular trekking destinations in the world. It offers stunning views of Everest and other Himalayan peaks at an elevation of 5,360m (17,575 ft).
This trek has attracted many people because of its beautiful scenery, rich flora and fauna, and friendly Sherpa people. The Gokyo Ri is a great starting point to see Mt Everest from another angle. You will get to go up to Gokyo Ri (5483m) and see a spectacular landscape that includes four 8000m mountains – Everest, Lhotse, Makalu & Cho Oyu.
The ascent to Gokyo Ri is fairly easy, but the final climb to the summit can be challenging for some hikers. The views from the top are worth the effort, however. On a clear day, it is possible to see an array of other great Himalayan peaks.
Chukung Ri View Point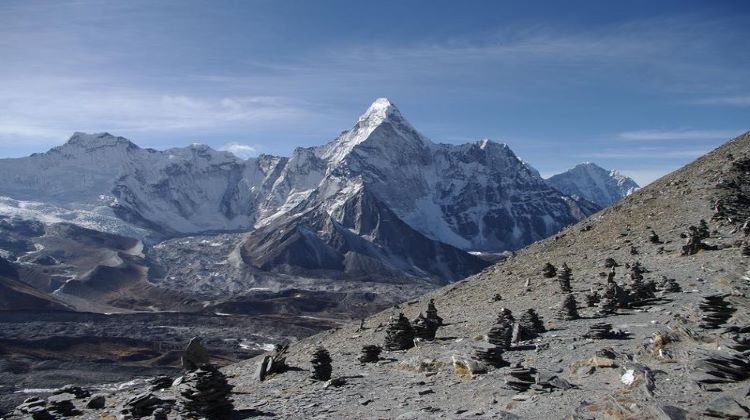 Trekking to the Everest Base Camp requires a lot of stamina, but it's definitely worth the effort. The trek begins from Lukla and passes through the beautiful villages of Phakding and Namche Bazaar. A day spent in Namche gives you time to acclimatize before trekking towards Tengboche.
After a day at Tengboche, it is time to trek towards Dingboche. Dingboche is situated at an altitude of 4,360 meters above sea level and you should spend another day acclimatizing before continuing the hike. Chhukung Ri stands tall at 5,550 meters and is located close to Dingboche.
You can make it part of your EBC acclimatization hike because it offers wonderful views of the surrounding peaks including Lhotse, Baruntse, Island Peak, and Ama Dablam.
The Chhukung valley, considered by many to be the most beautiful in the Khumbu region, lies just south of Dingboche. Here the Imja River flows down from the Lhotse and Island Peak glaciers, through a wide valley surrounded by mountains on all sides.
The hike to this valley is not only a spectacular alternative to acclimatization hikes in the EBC area but also provides a
good opportunity to see some of the most famous peaks in Nepal. While climbing Chhukung Ri it isnot  too difficult technically, it requires fitness and a bit of experience with rock scrambling near high altitudes.
Nangkartshang View Point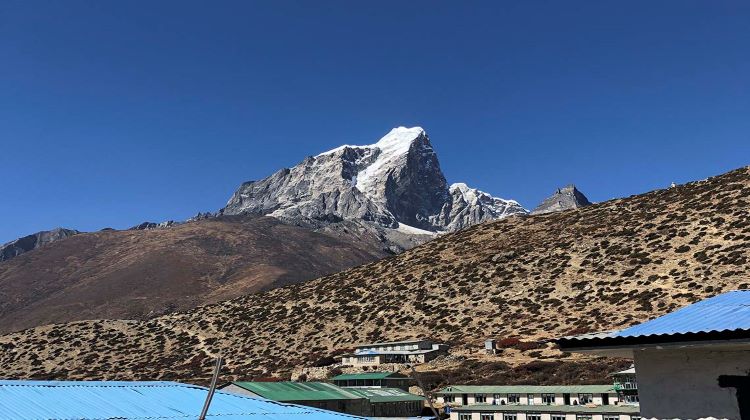 Several high-altitude peaks in the Khumbu region are not technically challenging but can still be rewarding. The view from Nangkartshang Peak is one of the best views you can find anywhere on earth.
If you are trekking in the Khumbu and have some extra time, I highly recommend making the side trip to check out Nangkartshang Peak. It is a fairly moderate scramble up to the summit from where you can enjoy great views of Cho Oyu, Everest, Lhotse, Makalu, Cho La Pass, and more.
Most trekking guides will take you to a lodge near Dingboche for your first acclimatization day and let you climb up to Chhukung Ri, which is not much more than 5050m high. This can certainly be an excellent hike, but it is by no means one of the best viewpoints in the Khumbu.
In my opinion, you should try to visit Nangkartshang Peak instead, because it gives you an amazing panorama of the entire Lhotse-Nuptse wall, Everest, Ama Dablam, and other peaks in the region. However, I would not recommend climbing Nangkartshang Peak on your first acclimatization day (especially if you are hoping to attempt Island Peak or Lobuche East), since you are likely to get altitude sickness at that elevation,
Everest View hotel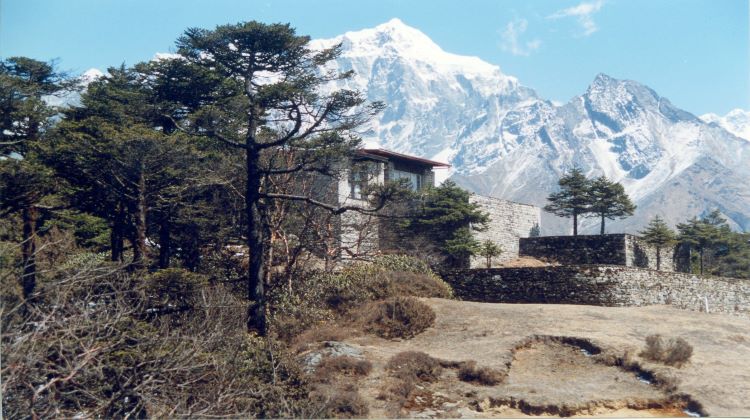 The Everest View hotel is a luxurious and renowned hotel located slightly above the town of Namche in the Khumbu region of Nepal. The hotel is situated at an altitude of 3,800 meters and offers stunning views of the Khumbu region's gems.
The Everest View Hotel is located in the heart of the Khumbu region, Nepal. This is one of the best spots for those who want to experience the Himalayas in a luxurious retreat. It is a four-star hotel that offers luxurious accommodation and features a restaurant, bar, and mini-conference facilities.
The Everest view hotel is situated at a height of 3,800 meters within the Khumbu Region. The hotel itself is an excellent viewpoint to watch the view of the Mahalangur Himalayan ranges, the array of highest mountain peaks on Earth. Hotel Everest View gives you the amazing opportunity to see Mt. Everest (8,848m), Ama Dablam (6,812m), Nuptse (7,861m), Lhotse
(8,516m), Baruntse (7,129m), Thamserku (6,623m), and Island Peak (6,160m).
Most visitors to the Everest region come either to visit Mt. Everest View Trek or to complete the Everest Base Camp Trek. Fewer options exist for the visitors who want to see Mt. Everest in a lesser time but are still willing to go on a trek to see the world  highest peak.
An excursion to Hotel Everest View is possible during acclimatization day at Namche Bazaar. A few hour's treks to Hotel Everest View is ideal for trekkers who have lesser time to do the complete Everest Base Camp Trek but are willing to see World's highest peak.
Conclusion
We hope you enjoyed our Everest blog on the viewpoints in the Everest region. Everest or Khumbu area is a place that many people want to visit. Just imagine being able to see the tallest mountain in the world from the top! One of the best ways to enjoy a trek up Everest is by staying at the Everest View Hotel. This is where you will be able to see the views from the top of the world. Enjoying a stay at the Everest View Hotel is a great way to take in the view from the top of the world. If you are looking for a place to stay to experience the view from the top of the world, contact us anytime at ___. Thank you for reading!