Annapurna Base camp Trek -12 Days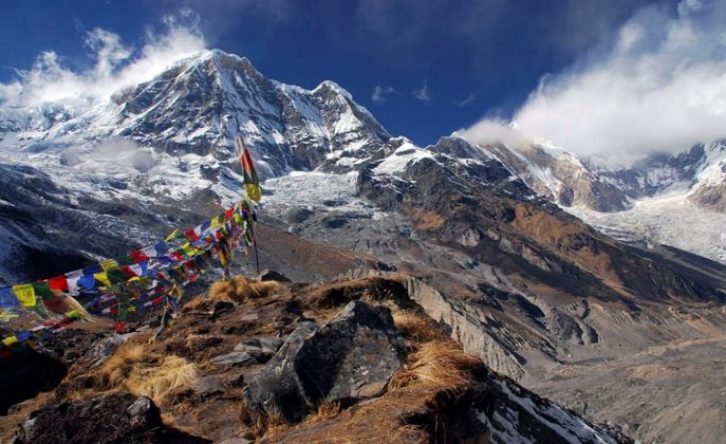 Trip Facts
Trek Destination
Poon hill & ABC
Highest elevation
4,130 at ABC
Best season
Aug-Dec/ Feb- May
Trek Type
Lodge / Tea House
Overview
The 12 Days Annapurna Base camp  ( ABC ) Trek  package  service start from and End to  Kathmandu . This 12 days  ABC trek  Take you the base camp of the 9th  world highest  Peak Mt. Annapurna  via famous  Himalayan  view point Poon Hill.
Annapurna Base Camp Trek  12 days offers great introduction to rustic Nepal and its fascinating peaks. Annapurna meaning "The Goddess of the Harvests" is the part of Great Himalaya Range located in the North-central Nepal.
There are very few treks in Nepal that takes you close proximity to 8,000m+ and 7,000+ peaks without forcing you to push your limits; in such short time period.Walk through lush terraced fields, explore cultural hamlets, cross gushing rivers and endeavor the challenging mountain trail to the Annapurna Base Camp. You will spend nights at local teahouse which offers you an in-depth knowledge of local culture and traditions. The region is pre-dominantly habited by Gurung and Magar community who are globally known for their bravery in British Gurkha Regiment.
the 12  days ABC Trek via  Ghorepani Poonhill   starts from  Pokhara,  from  Pokhara Drive to Nayapul 45 minutes and walk through Hindu farming village; then Tibeto-Berman groups for two days to Ghorepani. A pre-sunrise climb to Poon Hill ridge (3,210m/10,530ft) ensures panoramic sunrise over gigantic Himalayas – Dhaulagiri I, Annapurna South, Annapurna I, Fish-tailed (sacred Machhapuchhre)
The trail then moves eastwards towards Modi Khola valley which carries melted water from glacier and ice-rings above. Numerous villages nestle above the river on ridge tops surrounded by charming terraced fields.
The trail above Chhomrong becomes steep and as it enters to the Sanctuary; the tree line gives way to Alpine scrubs and peaks come into full view. A rigorous walk to Macchapuchhre Base Camp is followed by two stiff hours climb to Annapurna Base camp. Here you will be rewarded with the vast and Breathtaking wall of rocks and ice; rising above 4,000m from BC. Below is magnificent Ice U-shaped valley gouge.
The returning journey requires three nights with one at Jhinu Danda. Here you will soothe at natural hot spring to relax your tired muscles. A final downhill walk leads to Mataque – and a private vehicle to drive you back to Pokhara. Fly back to Kathmandu and spend your leisure day exploring the sights and sounds of the city.
Highlights of ABC Trekking 12 Days
1,  Cultural Villages
Explore the traditional villages inhabited by Gurung and Magar community and interact with locals to get close glimpse of local culture and tradition. Annapurna, home of many Gurkha soldier, has friendly locals who love to share their culture and life experience. They will delight you with warm hospitality.
2, Lush Forests of Rhododendrons and oaks
Annapurna Base camp trial goes through amazing forest of bamboo, rhododendron and oaks. In spring, the colorful rhododendron and other wild-flowers endow the trail; making it earth's paradise. Small streams and chirping of birds add more beauty.
3, Numerous rivers and suspension bridges
Get ready to be enthralled on a beauty of rivers that meanders on your trail. Also get ready to swing on every step as you walk to cross the suspension bridges over the river.
4, Rural Nepalese Lifestyle
Though the villages on ABC trial well-pander their travelers; local still have rural lifestyle and enjoy their Village life. You will see well-furnished hotels and at a same time thatched roof houses. Farming and animal husbandry are still main source of income.
5, Magnificent Himalayan Peaks
Enjoy some of the best views of mighty Annapurna and Dhaulagiri ranges. The astounding Himalayan peaks dominate the entire trek. Annapurna and countless other peaks crowd the horizon. From every ridges and villages you pass by, you can witness wonderful sceneries.
6, Machhapuchhre & Annapurna Base Camp
You will have privilege to explore two base camps – Machhapucchre Base Camp (3,700m) and Annapurna Base Camp (4,130m). At 4,130m, Annapurna Base Camp is dream come-true destination for every adventure enthusiast and Nature  lover. You will spend overnight beneath the shadow of Annapurna which is, no doubt, anexhilarating experience. Morning welcomes you with fresh mountain air and stunning rays of sun that strike upon the milky Annapurna.
7, Jhinu Hot Spring
A visit to the natural hot spring in Jhinu Danda works magic on your tired muscles and is a well-deserved break on your returning trip from Base Camp.Jhinu Danda is itself a delightful settlement; perched on a top of ridge with couple of teahouses and pop-up craft shops.
8, Diverse Floral and Faunal Species
Annapurna region is paradise for nature lover and botanist. Variety of floral and faunal species thrive on the geography of Annapurna Conservation Area. The region is home to various numbers of flowering and non-flowering plants and rare and non-rare wild species like leopard, musk deer, Himalayan Thar etc.
9, Poon Hill
Annapurna Base Camp Trek with a hike to Poon Hill offers comprehensive mountain experience in Annapurna region. An exploratory hike to Poon Hill not only offers you a unique experience but also Assist you with acclimatization. Poon Hill viewpoint at 3,210m; offers magnificent sunrise over 55km long Annapurna massif.
 Trek  FAQ
How fit do you need to be for Annapurna Base Camp Trek?
For ABC trek, you don't need to be an athlete or extremely fit person. If you are moderately fit and can walk for 5 – 6 hours  per day; on a mountain trail then this trek will not bother you. However, there are some sections which might really challenge you.
The Tikhedunga to Ulleri comprises 3,200 stairs which is approx. 500m ascend and the Chommrong to Lower Sinuwa includes 2,200 stairs which approx. 300m.
What is the elevation of Annapurna Base Camp?
The elevation of the Annapurna Base Camp is 4,130m. A day hike around ABC will take you as high as
4,300m.
What is the best season for Annapurna Base Camp Trek?
(March – May) in spring and (Sep – Nov) in autumn are the best time of the year for ABC Trek.
Spring: The weather remains stable and the entire trail is decorated with rhododendron and green vegetation.
Autumn: The weather remains stable and offers great mountains views
Rest: Monsoon receives heavy downpours; making entire trail slippery. It also invites the risk of
Landslide, floods and  avalanches. In winter, the mountains are at its best attire but the extremely cold temperature might not be suitable for every trekkers.
Do I need Travel Insurance while trekking?
It depends on your health condition. But we suggest you to get travel insurance that covers evacuation emergency situation.
Is there any ATMS or POS machine in ABC trail?
No, you need to carry cash. Only local currency is acceptable.
Annapurna Base Camp Trek Itinerary -12 Days
Cost Include/ Exclude
What's include
  Airport / Hotel / Airport Transportation
2 Nights  Hotel Accommodation in Kathmandu a
One Night Hotel in Pokhara including breakfast
Kathmandu to Pokhara / Kathmandu Flight Ticket
Meals In Trekking : 3 Meals a day during the trek (8 Breakfast, 9 Lunch and 8 Dinner)
Annapurna conservation fees and TIMS permit
Pokhara to Nayapul / Pokhara  by car / van
All accommodations in lodges/tea houses during the treks.
Trekking Guide: An experienced, helpful, friendly, and English speaking trekking guide (including his well-paid salary, insurance, meals, accommodation, transportation, etc.)
Trekking Porter:  Carry your Luggage (One Porter for every two clients)
Adventure Certificate. Trekking Map,
Medical supplies (first aid kit will be available).
Welcome Dinner
All Government Taxes and Service Charge.
What's excluded
All bar bills and personal expenses (phone call, laundry service, battery recharge)
Travel Insurance
All Hot and bottle of drinks
Lunch / Dinner in Kathmandu / Pokhrra except Welcome Dinner
Tips for guide and porter.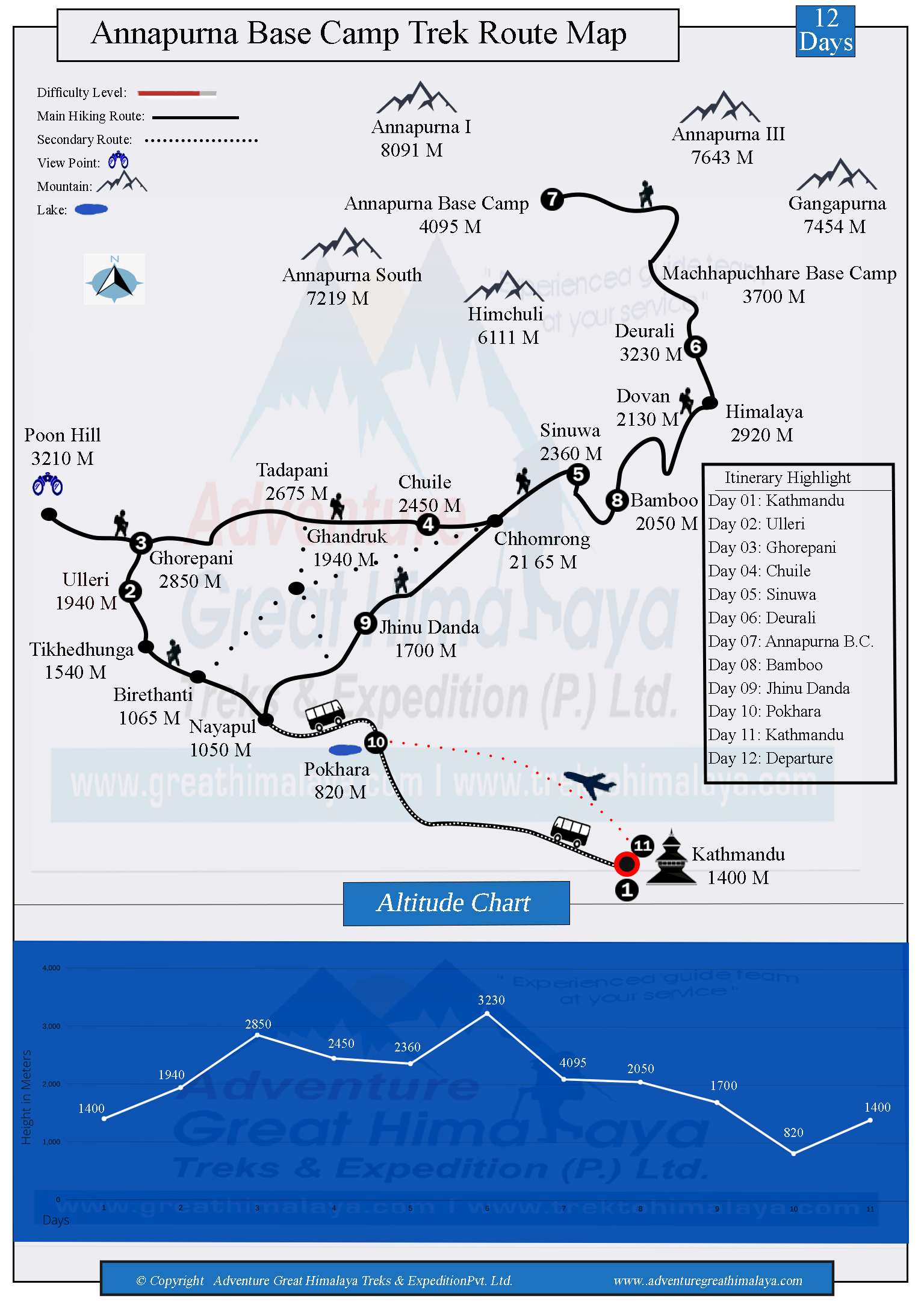 Gallery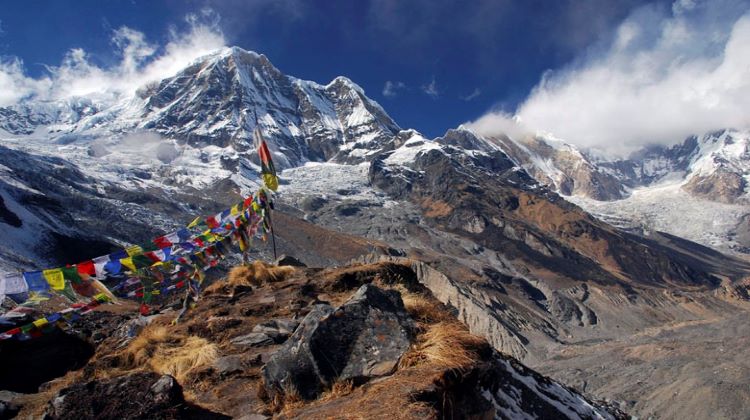 Reviews of Annapurna Base camp Trek -12 Days