Pokhara, the Jewel of the Annapurna range, offers various short treks, especially to the Annapurna region. Pokhara itself is a great tourist hub, prominently considered the gateway to the Annapurna region. If you are looking for a short trek around Pokhara, you have landed in the right place.
Short treks from Pokhara range from a day to a week; plan with your flexibility. The significant short trek destinations from Pokhara are Ghandruk, Poon Hill, Khopra Danda, Panchase, Mardi Himal Base Camp, Australian Camp, and Annapurna Base Camp; all lie around the lower Annapurna region.  And It would be no less than a wonderland, whichever trek you opt for. Annapurna region is culturally diverse but is heavily dominated by the Gurungs of Nepal, among others. Along with Gurung culture and tradition, you may encounter Magar, Tamang, Newars, Brahmin, and Chettri, with their separate culture. So you can have a diverse experience.
Here we have brought you some short treks from Pokhara:
Mardi Himal Trek – 4 days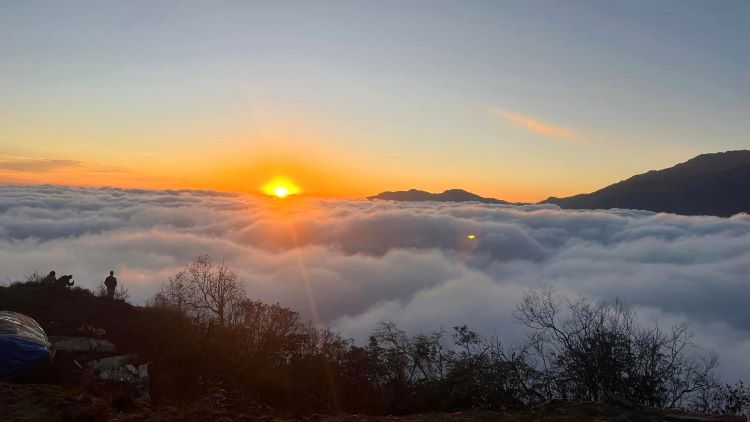 Mardi Himal is one of the most popular  short  treks  in the Annapurna region, which is a moderate high-altitude trek that doesn't require any mountaineering skills or experience. Usually, your body automatically acclimatizes in this trek, with steady altitude gaining. Any time of year is suitable for Mardi Himal Trek, but Spring is preferable, bringing greenery everywhere with wild, vibrant flowers and a clear view of the Annapurna range.
Five days Mardi Himal Trek starts with driving to Kande, 27 km north of Pokhara. On the first day, you will find yourself trekking in the stone-paved trial for a few hours to reach Deurali (2125 m). Following overnight at a teahouse in Deurali, we will trek to Low Camp (3150 m), crossing mesmerizing rhododendron trees forest covered with moss, fern, and lichen. Further, various wild fauna plays around the forest. The best view from the low camp is Fishtail Mountain(Machhapuchhre), alongside other peaks from the Annapurna range.
After that, on the 3rd day, we will head to the High Camp (3700 m), which will take around 5 to 6 hours of trek with a bit of rest on the trail. On this day, we will pass through the beautiful Mardi Ridge, catching up a glimpse of Machhapuchhre, Annapurna South, and Hiunchuli.
On the 4th Day, from High Camp, you trek for about 3-4 hours to reach Mardi Himal Base Camp. The base camp offers close-up views of the entire Annapurna Range. You can stay at Badal Danda to catch a sunset view and the amazing view of clouds covering the mountains.
From now the trail is downhill. Then, let's make our way down and trek to Sidding (1850 m), passing through various beautiful landscapes. From Sidding, you will catch a Jeep for Pokhara.
Poon Hill -Ghandruk – 4 days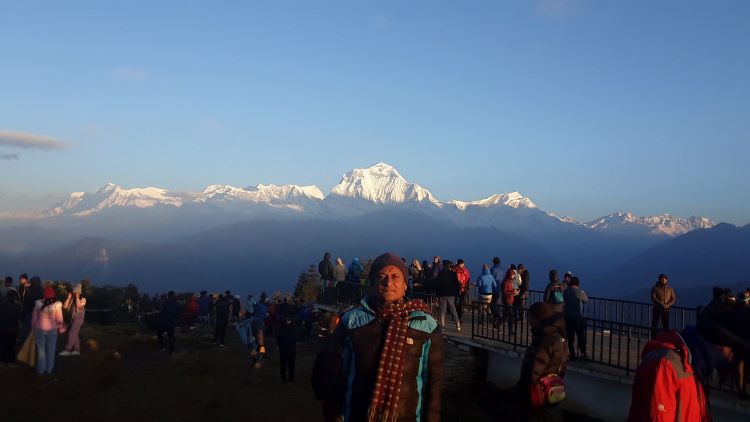 The Poon Hill Ghandruk trek is a wholesome Himalayan exposure in a short trek from Pokhara. Along with a view of the magnificent Annapurna range, further, you can experience the biggest Gurung village of the Annapurna region, Ghandruk, with its great culture, tradition, and cuisine.
Any season is great for the Poon Hill – Ghandruk Trek, but the winter is quite cold here. So Spring and Autumn would be a great choice. The max elevation you will be standing at is 3,210 meters. Thus, anyone with good physical fitness can do Poon Hill – Ghandruk trek. Also, there is no age barieir.
The major attraction of the Poon Hill – Ghandruk trek is encountering jaw-dropping shades (Oranga/Red/Pink) of the sunrise in the Annapurna range, pleasing your eyes and making it worth your trek. Further, you will find yourself surrounded by picturesquely terraced slopes, beautiful villages, forests, and other various landscapes on this whole journey.
The Ghandruk Poonhill is one of the prominent short treks from Pokhara, which begins with a short ride to Nayapul village, the starting and ending point of this trek. From the Nayapul trek to Ulleri, walking through the villages of Matathanti and Lamdawali, a bit challenging of the day, it steeps to reach Ulleri. On the second day, we trek from Ulleri to Ghorepani  (Height. 2860 m). On the third day, we will climb Poon Hill (3,210 m) early in the morning. This hill station serves the fantastic view of  Annapurna Massif and the Dhaulagiri range. Then descend to Ghorepani and trek for 5 to 6 hours to Tada Pani.
On the 4th day, trek from tada pani to Ghandruk, a generous downhill passing through forest and a beautiful terrace landform. At Ghandruk, you will be pleased to receive good hospitality from locals there and mesmerized to see the old traditional habitat of the Gurung.  On the 5th day, from Ghandruk, trek down to Nayapul and drive back to Pokhara.
 Astam Eco Village Trek – 3 Days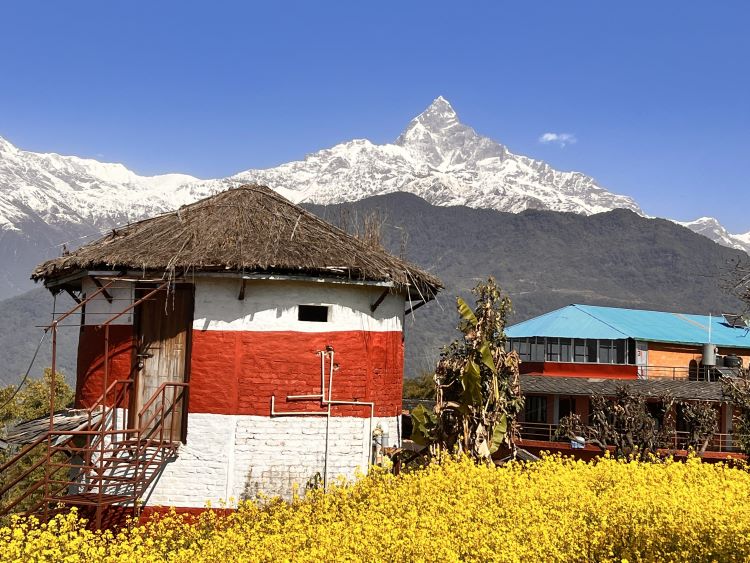 Astam Eco Village is untouched nature around the Annapurna region, which is regarded as the best short trek from Pokhara. If you want to escape from the crowd and give yourself a wave of peace, the Astam Eco Village trek is the best therapy for you.
Astam Eco Village, around  20km northwest of Pokhara, offers a truly traditional village life in Nepal fully based on the Eco-friendly concept. The locals here run an accommodation service with a homestay concept in their traditional Nepali home. You will be surprised to see the homestay uses a biogas pit for cooking, chemical-free products, and, most importantly, garbage reused and recycled. Further, comfort and cleanliness are equally valued, which provides a qualitative stay simple.
Besides,  Astam Eco village is renowned for sunrise and sunset views over the Annapurna range. Besides, bird watching, butterfly photography, and walking to traditional villages are to do activities here.
Where does the trek to Astam Eco Village begin? From Pokhara, it is easily reached by road in about 90 minutes. On day one, we will explore Astam Eco Village and its beauty. On the second day, we trek from Astam Eco village to the Australian camp, almost 8 km. On the third day, we trek from Australian Camp to Pokhara.
This trek is suitable for all ages and moderate fitness levels. Trekkers prefer Autumn and Spring to witness the true beauty of Astam Eco Village.
 Australian camp- Sarangkot trek – 3 days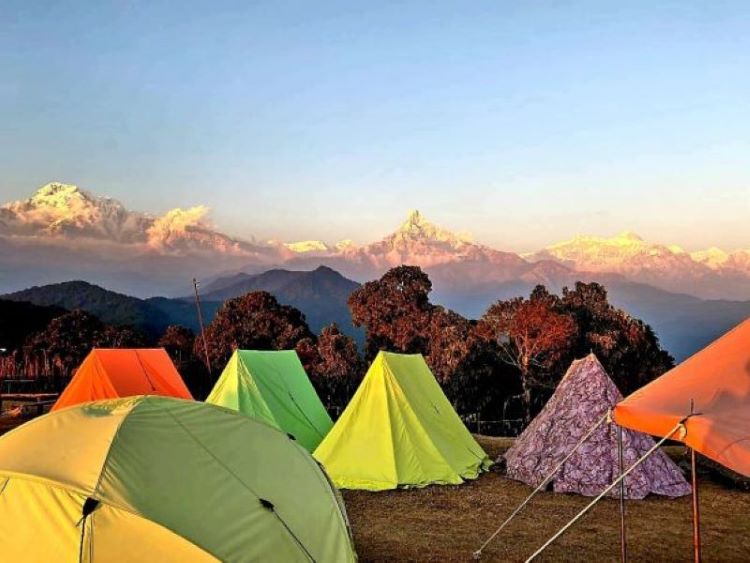 If you are a mountain person with very little vacationing time, the Australian camp – Sarangkot trek is the perfect short trek from Pokhara. You can have a trio here Nature, Adventure & Culture encounter. This moderate trek is doable for all age groups and average fitness levels. Though all seasons are a green signal for this trek, Autumn and Spring have a great aura in the region.
Australian Camp – Sarangkot trek begins with a drive from Pokhara to Kande and then a trek from Kande to Australian Camp via Dhampus Village. It takes about one hour and a half hour to reach Australian Camp. On the trail, you come across various landscapes, green hills, forests, and the Annapurna range in the background, standing tall. The major highlight of this trek is a mesmerizing view of the mountain range: the Annapurna and Dhaulagiri ranges, the Pokhara Valley, and its peaceful lake. You can find numerous tea houses at the Australian Camp with good accommodations and food.
On the second day, trek 5 to 6 hours from the Australian base camp to Sarangkot. The trail leads through dense rhododendrons forests which are the habitat of various wildlife. If you are fortunate, there is a high chance you will encounter various wildlife. Overnight at the lodge in Sarangkot. Don't miss the golden sunrise in the morning, which is very popular among international and domestic tourists. On the third day, trek back to Pokhara from Sarangkot.