Don't you want to give a fantastic goodbye with beautiful memories and thrilling experiences to the previous year? Trekking Nepal in December can be stimulating and challenging. There are many possible trekking destinations, but here we will help you to list a few best trekking in Nepal during December. Trekking Nepal in December can be thrilling and challenging. Trekking Nepal in December can be one of the most beautiful ways to end the year if you're looking for a fantastic farewell to this year.
Trekking in Nepal in December has a lot to offer, but when you are in a crowd, you might not grasp it. If you're not afraid of some cold nights in December, then this December is the best time to do this marvelous adventure. This December is going to be more enjoyable simply because only a few make it real.
Since you are trekking In Nepal December, don't you want to experience every possible thrill? December will start showering many cold nights here in Nepal. During this time, at the higher altitudes, the temperature falls below zero degree. Trekking in Nepal in December is the most amazing if you're looking for a challenging trek. Early December can be mild cold, but as the days pass, it gets cold in the higher altitudes at an elevation of more than 4000mtr. It starts even freezing often.
Why should One Trek in Nepal in December?
Look at the following benefits of trekking in Nepal in December.
1) Lowest rainfall
December is the month when there would be the slimmest chance of rain to drop over your head, although you may see some snow.
2) Amazing views
Winters have more unobstructed pictures in the Himalayan region. The sky remains clearer and offers you more wonderful scenic views. You can walk beneath the crystal-clear sky.
3) Less traffic
You can enjoy the less traffic of trekkers. If you're one of those people who have dream of walking in the highest Himalayas alone in a quiet trail, then this is for you. Taking pictures, enjoying the surroundings can be done more efficiently in Himalayan region of Nepal during December.
4) More Options for Accommodation
In the peak of seasons, there might always been a problem for accommodations due to flocking of many trekkers in the trail. During December, you can realize the lodges are more peaceful.
5) Christmas in Himalayan Region
What can be the biggest celebration than this? Christmas in the world's highest region, imagine, wouldn't it be wonderful? Christmas in Himalayas is something to celebrate in this one life
6) Semi frozen Lakes
In December month of the year, you can witness the semi-frozen lakes. The mystical lakes around the Himalayas get semi-frozen with extraordinary reflections of the Himalayas.
Best Trekking Destinations for Early December 
Since December is the beginning of winter in Nepal, to make your doubts clear, we have divided the best trekking in Nepal in December into two parts.
Annapurna Base Camp Trek in  Early December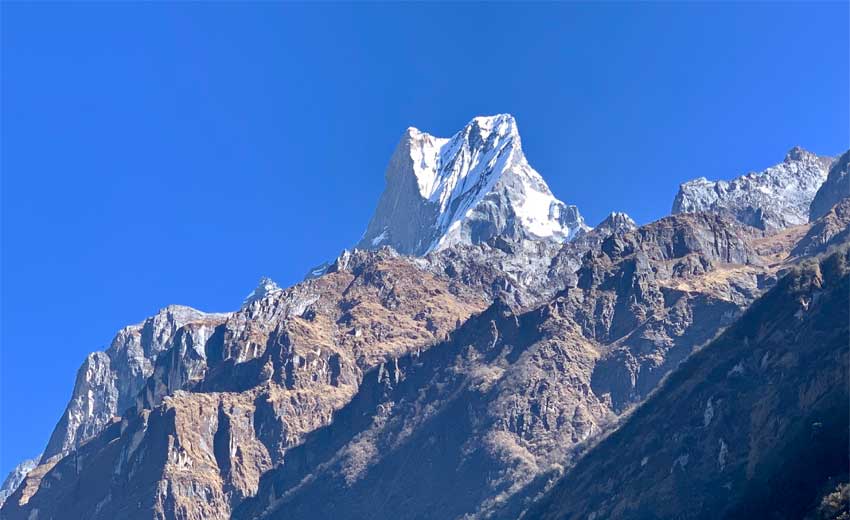 Annapurna Base Camp Trek (ABC) is the best trekking in Nepal in December trail through valleys and ridges up to the lap of the Annapurna ranges. ABC trek is on the bucket list of the most trekkers in the world in December to witness the challenging snowy trails.
The Annapurna region remains pretty dry in December. It receives less than 25 mm of rainfall. So, the chances of precipitation in December is minimum. While trekking in terrains of Annapurna Base Camp during early December, you will notice stable weather usually.
However, whether in the Annapurna ranges may change any time. So, prepare yourself to face any challenges, the weather offers to you. The terrain goes through some unique landscapes, uphill & downhills. You will spot incredible waterfalls and dense forests of oak, bamboo rhododendrons, etc. during your walk.
In early December, you can explore Subtropical meadows and magnificent alpine peak section at a higher elevation. Beautiful views of the most beautiful sunrise and sunset from Poon Hill (if you are passing via Poon Hill) can take your breath away. Thus, an ideal month for stunning scenario photography. The day temperature is suitable for pleasant hikes during December. Brilliant sunshine, howling winds, and blizzards. You can enjoy the peaceful trekking routes with less traffic in early December.
With proper preparation and management, Annapurna base camp trek is one of the best treks for December
Why Annapurna Base Camp Trek in December?
The enjoyable and serene atmosphere.
A hot bath in natural spring.
Peaceful nature and more wildlife.
Easy accommodation.
Fewer Crowds.
Everest base camp Trek in December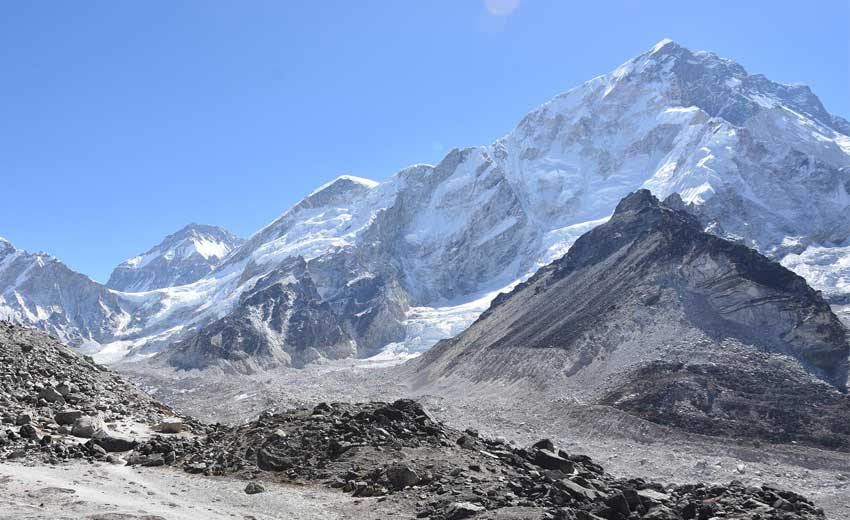 Everest Base Camp (EBC) trek is one of the best trekking in Nepal in December (early December). If you are in a dilemma of whether Ebc is possible in early December or not? The answer is yes.
Since you are trekking to the most fantastic destination, don't you want to experience every possible thrill? If yes? Then December offers you this chance.
Trekking in Everest base camp is mostly done during spring and autumn, but this creates substantial tourist traffic, and the environment gets a bit annoying. You may not be able to speak in silence with the Himalayas. But trekking in December offers you that. During this month the Everest region gets colder. So, carrying a backpack with the required materials can make your journey comfortable. With all the required gears and equipment, we can make December trekking in the Everest region a worthwhile and thrilling.
Sometimes travelers don't even start this trip thinking about the cold temperature, but believe me, once you get on those trails, you would be proud of your decision and guts.
Altitude sickness
Mount Everest lies in 8,848 meters above the sea level, whereas Everest base camp lies in 5,380 meters. Since you are traveling above 5,000 meters, the chances of altitude sickness increases. Everest gets colder during the winter, as we all know. So, you should keep in mind the proper acclimatization period. Sometimes the altitude sickness gets severe, which can spoil your entire trek. It is more fantastic if you could get more information about the prevention of altitude sickness beforehand from your company or the guide.
Weather Conditions of the Everest base camp region
As mentioned earlier, December is the beginning of the cold nights here in Nepal. In the higher altitudes, the temperature sometimes falls below zero degrees, and whereas at night, sometimes it goes around -14 degrees. The cold night would be an issue only if you would not have enough gears for yourself. You might experience some snowfall at the end of this trek.
Experience the Thrill of Everest base camp in Silence
December is the best time to trek if you are willing to accept the challenges, and once you start, it will make you more confident. From this month onward, Everest remains more silent than ever. You can feel the relaxation of walking beneath the clear sky, enjoying the fascinating views with no disturbance.
Everest base camp trek is one of the best trekking in Nepal in December.
Mardi Himal Trek in early December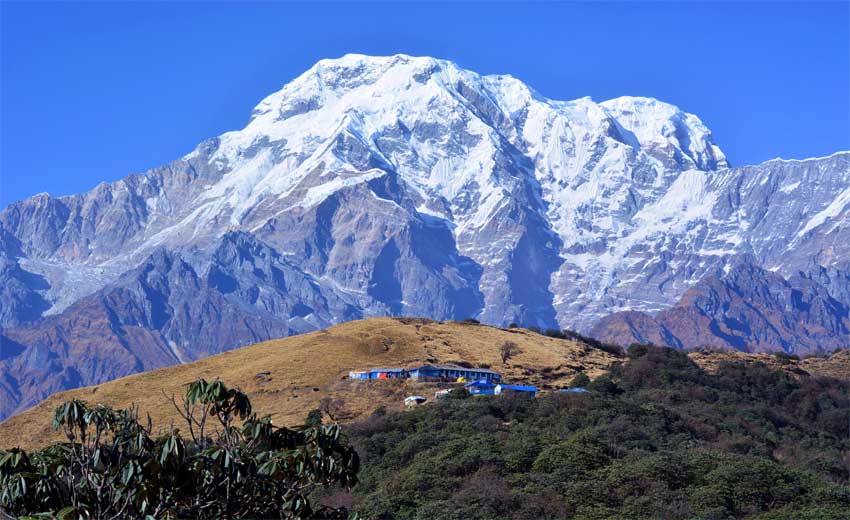 Mardi Himal trek is another best trekking in Nepal in December. Since December is the beginning of the winter, it gets cold in higher altitudes. If you're looking for a trek in a less traffic season with gorgeous Mardi Himal views and surroundings, then December is your time.
Mardi Himal region becomes very isolated due to the low traffic in December. However, it snows at the higher altitudes at the end of December. During December, the weather freezes below zero degrees.
As we ascend forward during our trek, our highest elevation is around 4,500mtr above the sea level. You may find temperature very extreme in late December. Sometimes due to heavy snowfall the trails may get completely blocked for many days in late December. Trekking over the rugged and remote trails is always difficult. Also is late December, the trails at higher altitudes will remains dipped inside piles of snow and ice due to extreme cold.
If you want to trek Mardi Himal in winter early December is the best time. You can spot silent trails and not extreme weather. In early December you can find temperature moderate and friendly but as the days pass it gets extreme.
 Mardi Himal trek in December Highlights
Magnificent views of Mt. Annapurna, Dhaulagiri, Mardi Himal, Manaslu, Machhapuchhre.
Exploring the beautiful villages at Siding, Liwang, Phedi, etc.
Lifestyles, traditions, and culture of Gurung villages.
The forest camp, high Camp, and Mardi Himal Base Camp itself.
The snow-covered trails.
Accommodation during Mardi Himal Trek in December
You don't have to worry about the accommodation facilities during the trek. You can find many tea houses in trails. Since it is a short trek, there is no need to worry, the villagers are always there to welcome you. It doesn't matter which month it is.
Useful tips for Mardi Himal Trek in December.
Bring adequate gear
Careful with altitude sickness
Trekking boots with good grips
Trekking poles
Proper mental and physical preparation before the trek.
It is very much possible for Madi Himal trek in December with proper preparation.
Late December Trek
Langtang valley trek In December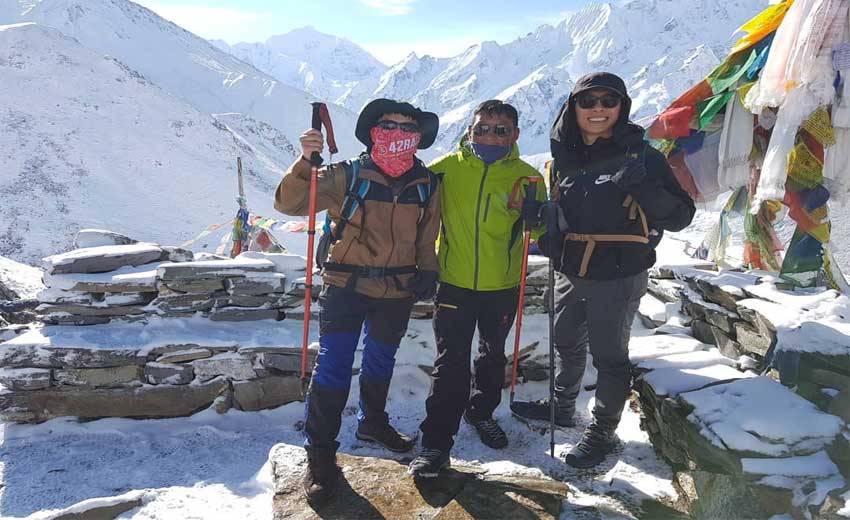 The Langtang valley trek is one of the best trekking in Nepal for late December. You can encounter a stunning destination for trekkers with magnificent culture. Langtang valley is located on the north side of the Kathmandu valley. Known as the safe haven of Buddhist Langtang valley is well known for Gosainkunda, Lauri Binayak Pass, Kyanjin Gompa. The coldest season of the year starts from December, which is the last month of the English year.
Langtang valley trekking in December will amuse you by its winter beauty. It is lovely and warm with a clear sky during early December but gets colder as the day passes. Walking from the lower altitude of 1400m to the highest point of Langtang at Kang jin gompa 3900m is tough. Langtang trek in December varies from moderate to extreme weather conditions. There may be snowfall during daytime and temperature rises from 6°C-9°C (42.8°F-48.2°F).
Trek Highlights of Langtang valley
Insights into the local culture and their lifestyle
Trails decorated with prayer flags and wheels, mani stones
The view of Langtang and other peaks are breathtaking.
Observe kyanjin gompa and Buddhist shrines.
Adventuring and Challenging off-beaten snowy trails and eye-catching lush green forests
Why Langtang valley Trek in December
Langtang trek in December to February will be so delighting.
As very few people prefer trek Langtang in December, you will find the road or the route less crowded.
Visiting Langtang at this season is more fun for peace lovers and people who want to explore nature.
You are walking along with the quieter frozen surroundings and pristine landscapes.
Poon Hill Trek in December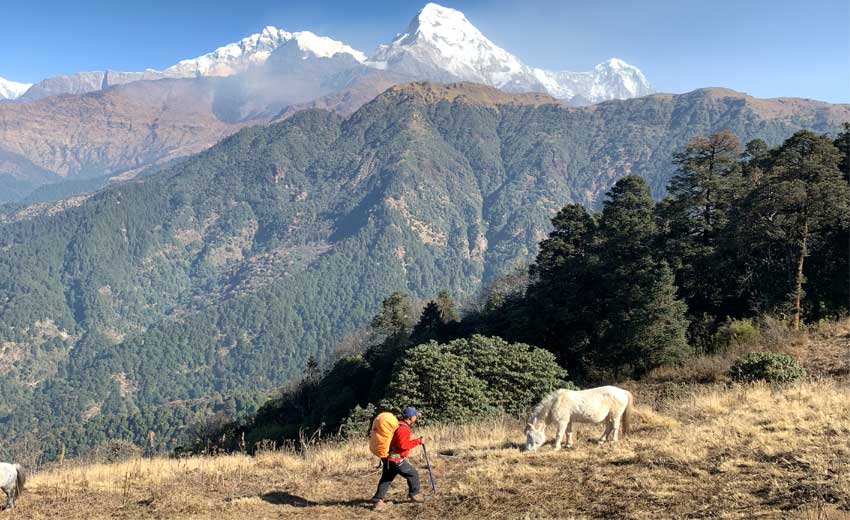 Poonhill trek is one of the best trekking in Nepal in December. The stunning sunrise from the poon hill viewpoint would make your travel amazing. The Poon hill trek is one of the shortest treks around the Annapurna region. Poon hill trek is best known for panoramic scenes of snow-capped peaks.
As compared to other seasons, trekking during December is going to be more fun and challenging. Since the elevation of poon hill is 3200mtr, you may find the temperature freezing during the end of December.
Poon hill is popularly known as the Photographers Paradise. Photographers can capture the best snaps of impressive Dhaulagiri and Annapurna ranges perfectly. Annapurna I, III and IV, Dhaulagiri, Manaslu, Gangapurna, beautiful sights of Pokhara, local cultures, religions, and lifestyles are the main attractions of the trek.
Why Poon Hill Trek in December?
December is the beginning month of the winter season in Nepal. The Himalayan region gets very cold during this month.
Less Crowded
Every few people accept the challenge of weather and trek to poon hill during December. Since it is above 3000mtr, it gets getting cold at the end of December. Weather decreases the trekker's crowd by the end of the month.
Picturesque views
As the precipitation is low in December, one can spot unobstructed views and enjoy the mountain's beauty, environmental greenery, and blue sky.
Good accommodation
The number of trekkers and accommodation are linked with each other. Lesser the number of crowds leads to a good quality of accommodation.
The weather of Poon hill in December
As December gets older, some places along the trails have a temperature of 0 °C or below 0 °C. January remains very cold around poonhill. December is just the beginning of winter. It's not very difficult to trek during December around poonhill.
Kathmandu valley Trek in December
Kathmandu valley trek is also one of the best trekking in Nepal in December. Kathmandu valley itself is one of the most beautiful cities in the country. Surrounded by magnificent mountains, parks, and cultural heritages, Kathmandu valley trek is the best trek for anyone.
Nagarkot and Chisapani hilltops are also renowned as an excellent panorama viewpoint. Trekkers have a chance to see many splendid mountain peaks- Ganesh Himal, Manaslu, Lantang Lirung, Dorje Lakpa, Shisa Pangma, and Gauri Shankar through this viewpoint. Weather conditions during December are not extreme; you can encounter magnificent views.
Nagarkot hiking in December
Located 32km east of Kathmandu Nagarkot is a magnificent spot and can be visited at any time. Still, to appreciate the beauty of the area and mountain views, it is a good idea to hike around the city and stay overnight.
Nagarkot is a beautiful spot to enhance your perception of the natural beauty around the Kathmandu valley. The hike takes approximately 6 hours through pine forests. On reaching Nagarkot, you can look around the village and watch the sunset spectacularly over the Himalayas. Nagarkot is very famous for its sunrise view.
Chisapani trek in December
Chisapani trek is one of the best trekking destinations around Kathmandu valley. It is a small settlement of Brahmin, Gurung, and Sherpa with fantastic views. The hike starts from Sundarijal (around an hour from central Kathmandu), passes the primary water source for Kathmandu. Chisapani is one of the famous trekked destinations and by everyone and passes via Shivapuri National Park until you reach Chisapani village.
This is the magnificent short trek where you can explore every side.
Dhampus Australian camp Trek in December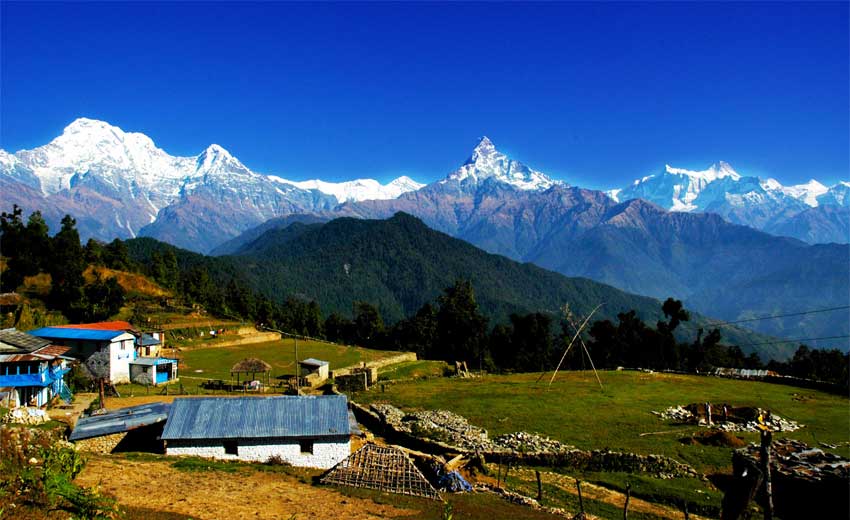 Dhampus Australian camp trek is one of the most magnificent trekking journey. Additionally, the Dhampus Australian camp is clean and eco-friendly environment accommodations among the beautiful nature inside the Dhampus village. In late December you can find the weather slowly getting cold. The original name of Australian Camp is actually "Thulo Kharka," meaning big pasture. Once It used to be seasonal herding place of buffalo and cow herders from the villages bellow Dhampus. You will see closed view of Dhaulagiri, Annapurna South, Himchuli, Machhapuchhre, Annapurna IV, Annapurna III, Annapurna II, Lamjung Himal and Manaslu range.
There are no such difficulties in December weather doesn't remain extreme, since it is a short trek it is very much possible to trek during December. You can find trails more comfortable due to less traffic.
 Highlights of Dhampus Australian camp Trek during December
Panoramic and closed views of Annapurna massif, explore in the valley,
Beautiful picturesque villages.
Experiencing the lifestyle and culture of Gurung people in December
Walking in the narrow and stone-paved trails, waterfalls.
Is it possible to Trek the Himalayan region During December?
By the end of December, the temperature in high altitudes gets below zero degrees Celsius. If you want to challenge your trekking capacity, then December is the best month to do this.
The other month's weather is your friend and supports you in every possible way. December is a month where it challenges you in every possible means.
Just about the weather, but it is very much possible to trek in December with adequate gear and preparation. You may need to prepare yourself before the trek. As people say, a firm determination will make things happen. With proper training and required knowledge, it is very much possible to trek during December.
Trek with or without Guide?
Well, making a trip alone in the other months of the year to Himalayan ranges is possible, but we do not suggest you trek alone in December. Since the route gets more challenging than different seasons, it's better to walk as per the guide's instructions. The local guides are the ones who are more familiar than you in those trails and can make quick right decisions in terms of emergency.
Other Reasons Why December?
Celebrating Christmas in the most adventurous Himalayan range would be the perfect way to celebrate. You can share the most beautiful celebration of Christmas with your friends and families together. Don't you think it is the best way to end the adventure year with glorious celebration of our memorable trek?