Cho la pass  (5,420 meters ) Is one of the most  Popular mountain high  Pass that connect Everest base camp  and Gokyo Valley.  The passes covered always by Ice and glacier.
Cho La Pass is a hidden jewel of Khumbu (Everest region) , famous for its extreme landscapes and scenic mountain view.  the summit pass is a popular attraction drawing locals and adventurers outside the region.
Cho La pass is  more familiar among hikers of Three Passes Trek, who use it far too often while visiting Gokyo and Everest base camp. The pass is also climbed by trekkers pushing for Dzongla, which lies on the ridge between Cho La and Lobuche.
Hence, it's not hard to see why Cho La Pass forms a string that connects the two villages Dzongla to the east and Thagnak to the west. Trekkers climbing Cho La Pass have to walk on the glacial moraines and rocks, which is pretty challenging. But once it's done, they'll get to enjoy the magnificent view of Gokyo Valley, Makalu, and Lhotse.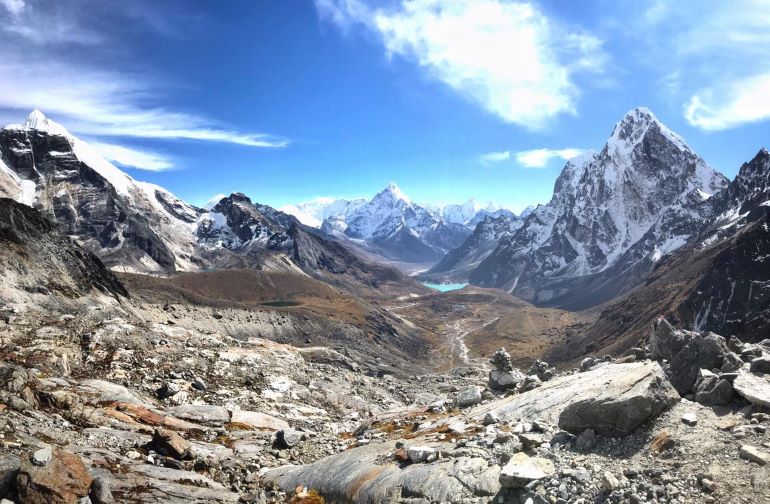 How to reach Cho La Pass ?
There are plenty of ways available for you to reach Cho La Pass, but the best option is to fly to Lukla. To arrive at the Gokyo trail, you must then trek its unpaved trails with mountainous terrains and steep-sided valleys. You'll cross many suspension bridges and pass through villages after villages to get as far as Thame.
The trek has been easy up until now, but the climb from Thame is super nerve-wracking with a steep uphill walk. You can get to the foot of the mountain pass only after hiking Marulung and Lungden. Once you reach here, the trail becomes more defiant, pushing for Renjo La Pass and Gokyo Ri.
It ascends long steep hills and rocky terrains to end at Gokyo and then walks past the Ngozumpa Glacier from right below Cho Oyu. From Thangnak, you'll head to Dzongla, crossing the hardest mountain pass, otherwise known as Cho La.
Tucked between the two villages, Cho La is one of the steepest mountain passes. Its tough trail with glacial moraines speaks volumes about climbing the pass's difficulty and hardships. The trail here doesn't slash its challenging nature, making it even more intense and difficult.
It pushes the hikers to walk a dirt track with rocks and boulders, which is incredibly painful and exhausting. The trail requires you to climb the steep icy moraines, which lead to the pass. After crossing Cho La, you can trek Lobuche and base camp, which lies just 10km away from the mountain pass.
A trekking permit of Sagarmatha National Park along with Khumbu Pasang Lhambu Rural municipality is required to trek Cho La Pass. To enter these restricted areas, you'll need a permit issued by Nepal Government.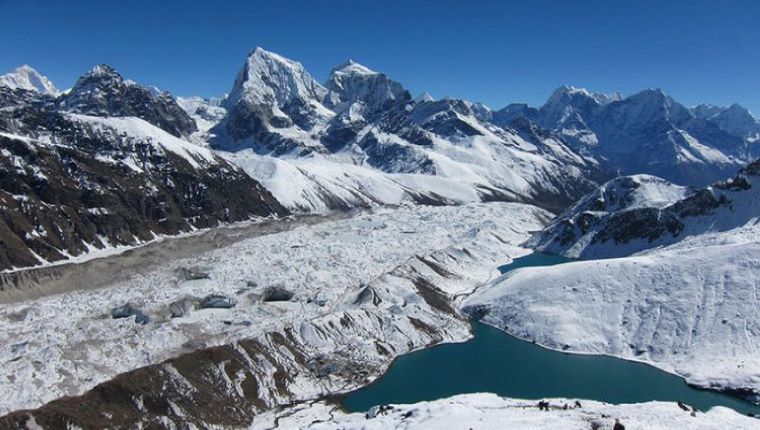 Cho La Pass Difficulties
Cho La Pass is one of the most extreme mountain passes that hikers walk during three passes trek. It's pretty challenging with super tricky trails that run hills, valleys, and mountains. The route winds up switchbacks through forests and rocky terrains before running along the glacial moraine.
It has lots of technical sections with rugged hills and slippery glaciers that require crampons to walk. So, knowing a few skills like using fixed rope and ice ax will always be helpful and handy during the trek.
Altitude Sickness
The difficulty of this trek is quite common as everyone can feel the impact of high altitude. The rising elevation is a pain for many trekkers, especially those with little or no experience traveling mountains or places at high altitudes.
Altitude Sickness is the major concern of Cho La Pass trekkers as it brings affects their health. The extreme elevation gain triggering low oxygen levels at summit pass can make trekkers suffer from shortness of breath, dizziness, and nausea.
Severe weather 
Apart from altitude, trekkers feel threatened by Cho La's extreme alpine environment, which experiences cold, windy, and snowy weather. The trails at Cho La Pass are usually hidden in snow, especially in winter when the temperature is below freezing.
Hence climbing these icy trails will be hard and risky unless you prepare in advance. You can get frostbite when suddenly exposed to the snowy trail, so precautions must be taken beforehand.
Multi-Route and the Backpack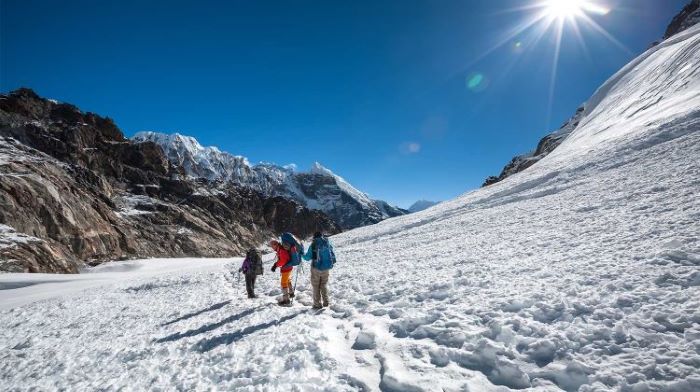 There are so many side routes on the trail, and you might be confused. Hiring a porter and a trekking guide will ease your journey to the pass. They'll help you with the backpack and guide you along the trail to the pass. It's even better to have a local as your trek guide who can help you introduce and interact with the people.
Rugged and steep terrain 
Located in a remote area of Khumbu with no human settlements nearby, Cho La Pass is definitely not an easy walk. Its long and meandering trail passing through wild forests and steep mountain ridges, makes the trek extremely tough. You'll have to ascend its rough and rocky terrains with glacial moraines, which are physically demanding. Therefore, trekkers should stay fit and healthy before trekking Cho La Pass.
Why booking with us ?
Fully Locally Owned Company
Quality Of Service and Competitive price
Highly Professional Staff
Flexible and customization trip itinerary
100% Customer satisfaction
Need help?
Nepal: 00977-9841273869
whatsapp
: 00977-9841273869
24 hour customer service