Mardi Himal Trek – 3 Days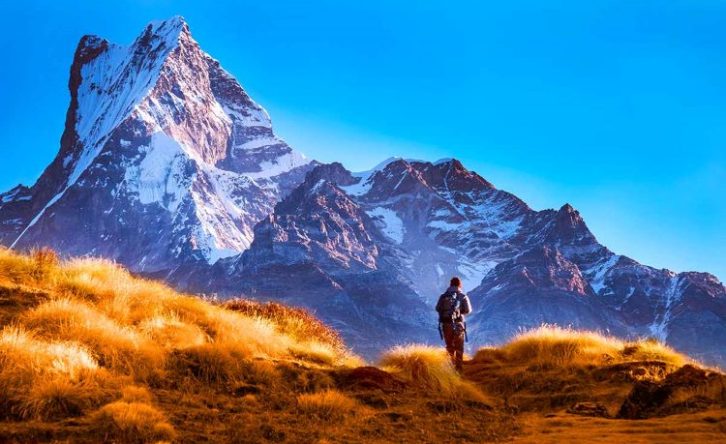 Trip Facts
Overview
The captivating Himalayas in Nepal often tend to pull adventurers, whereby the Annapurna region of Nepal has been able to set its mark by simply offering its magic. Among the treks in the infamous region, Mardi Himal Trek is one of the best short trekking places in Nepal.
Located in the most captivating trekking region of Nepal; the Annapurna region, Mardi Himal Trek is a hidden gem on the rise. This trek offers you a perfect blend of all the attractions any trek possibly offers including breathtaking mountain views and picturesque landscapes, while indulging in the unique cultural and environmental diversity throughout the journey. With its unique offerings, the less-crowded trek has been gaining popularity among trekkers.
Mount Mardi is a 5,587m high peak that rests just beside the infamous Mount Machhapuchre, also popular among travelers as Mount Fishtail. Our 3 days Mardi Himal  trek takes you up to the Mardi Himal High camp.
The entire trail offers you glimpses of the great Himalayas, mainly the giants Mt. Dhaulagiri, Mt. Machhapuchre, Annapurna ranges, and so on. Further, you can look forward to experiencing the magic of authentic teahouse experience, getting in touch with the culture of people living in story-like villages accompanied by rhododendron forests, diverse flora and fauna, and living a glimpse of simple tranquil life close to nature.
The Mardi Himal trek has been a best-kept secret, which gives you the perfect opportunity to trek through the less-beaten path, for those who are looking forward to indulging themselves in the natural and cultural fascinations of the Annapurna region. Well-known for being rich in fauna, this trek also provides you with an opportunity to spot wildlife including leopards, musk deer, and likewise.
Your hunger for thrill and serenity ends right here! Our 3 days trek package presents you its magic enriched with tranquility, with a blend of splendid views, adventurous thrill, and a touch of cultural diversity. Our package has been designed to make sure you make the most out of your time and make every second count. Lace-up your boots, get your body moving and mind ready, and book a trip with us!
Come feel the magic of the hidden gem of Nepal's infamous Himalayas with Adventure Great Himalayas.
Highlights of 3 days Mardi Himal Trek
Captivating forests and vibrant rhododendron blossoming
The Mardi Himal Trek takes you through trails amidst lush green forests, leaving you amused. Vibrant rhododendrons blooming with full grace during the spring season, defining the true beauty of nature, is guaranteed to be one of the highlights of your trek.
Breathtaking view of the Himalayas
Providing you with glimpses of the great Himalayas including the Annapurna range, Mt Dhaulagiri, and likewise throughout the trails; this trekking journey treats you with the most splendid view.
A panoramic view of the Annapurna ranges, Mt Machhapuchre, Mt Mardi, Mt Dhaulagiri, and Mt Hiunchuli gives you a magical feeling of serenity like no other! The view definitely makes the entire time and effort worthwhile.
Cultural exploration in the classic ancient villages
The 3 days trek takes you through Gurung and Magar villages in the higher-altitude regions of Nepal where you get the opportunity to indulge in the local culture and get to know the kind people there. Their warm hospitality, way of living, and most importantly, simplicity in life, will undeniably give you a chance of viewing the world from a different perspective.
Off-the-beaten-path experience
Being a hidden gem and an off-beaten path, Mardi Himal Trek provides you with a sense of exclusivity, added adventurous thrill, and an undistracted experience throughout the journey. The added touch of the trails' remoteness makes the trek one of the best.
Best Time for Mardi Himal Trek:
The weather pattern in Nepal possesses four distinct seasons throughout the year namely Spring (March to May), Summer (June to August), Autumn (September to December), and Winter (December to February). Even though the Mardi Himal trek is achievable in all seasons, your experience varies with which season you choose.
To make the most out of your time and investment, Spring and Autumn seasons offer you the most impeccable views. Rhododendrons blooming with full grace, eye-catching flora and fauna like no other, clear blue skies, and a picturesque view of ice-capped mountain ranges are what you can expect from your trek during these favorable seasons.
Nevertheless, if you love a good challenge and are looking for a more adventurous trek, Summer and Winter seasons might be an option for you.
Difficulty Level:
Mardi Himal Trek is graded as moderately difficult. Considering its altitude, rocky trails for some parts, and availability of teahouses; this trek is completely achievable with good guidance and support. The narrow trails from low camp to high camp are fairly challenging, but shouldn't be a problem with our experienced guides!
While a moderate amount of fitness is expected from trekkers willing to go for this trek, you can further prepare yourself by getting your body moving ahead of the trek itself. Moreover, the itinerary curated and executed by our experienced professionals takes beginners' capabilities into consideration.
All in all, the difficulty level of Mardi Himal Trek truly depends on the season and the professionals that guide you!
Major Attractions:
Being one of the best-kept secrets, Mardi Himal Trek is the perfect opportunity for you to revive in nature with less crowd throughout the journey. In spite of being short, this trek is an all-in-one package that serves you with diverse biodiversity from captivating landscapes, and sub-alpine forests to the magnificent Himalayas in just 3 days.
Moreover, the panoramic view of the infamous Annapurna ranges, Mt Machhapuchre (6,993m), Mt. Mardi (5,587m), Mt. Hiunchuli (6,441m), and Mt. Dhaulagiri (8,167m) makes you forget the world for a minute.
Mardi Himal 3 days Itinerary
Cost Include / Exclude
What's include
Pokhara to kande -Siding to Pokhara by Private Van / Car / Jeep
Trekking Permit : Annapurna Conservation Fees and TIMS Permit
 Trekking Guide: An Experience, English Speaking Trekking Guide
3 Meals a day during the trek  ( breakfast, Lunch, Dinner)
Hot drinks, tea / Coffee
Twin sharing lodge to Lodge Accommodation during the trek
Government Tax and vat
Office Service charge.
What's excluded
Personal Travel Insurance
All Bar Bills, bottle of drinks, Extra Tea / Coffee
Trekking porter -USD 60 per porter
Tips for Guide, Porter