Nepal has been a traveler's safe haven for many years. Travelers from around the world visit the country for its wild adventure, great scenery, and a sheer variety of landscapes. They come here to explore the richness of the city and discover many of its historical and religious sites. 
Since there are so many options to go with, Adventure Great Himalaya makes it a little easier for you by bringing the five itineraries for 14 days in Nepal. 
The tour package is a perfect mix of thrilling adventure, outdoor activity, scenic walks, and sightseeing. It also presents you with a remarkable art scene in the country's best historical landmarks. 
Itinerary 1:


Everest Base Camp Trek +Kathmandu City Tour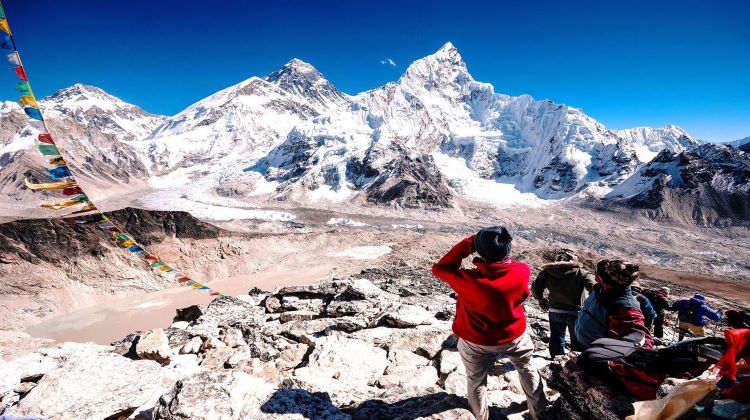 11 days Everest Base camp with  1 Days Kathmandu City Tour is many travelers favorite  Itinerary,  it's not as big as some of the most famous cities in the world, Kathmandu has a spark like nowhere else. It's so diverse and vivacious that you can spend your whole life here and still miss a lot of incredible things that the city has to offer. 
Everything is bigger and better here. Even the centuries-old historical monuments and religious shrines carry more significance in Kathmandu than most artistic buildings designed these days. The list for a top attraction in the city never ends, but the best has to be iconic Kathmandu Durbar Square. 
Listed in the UNESCO World Heritage site, Pashupatinath is another place of interest. It has a series of ancient Hindu temples, stone statues, and idols. The cultural tour in Kathmandu also includes a visit to Monkey Temple and a Boudhanath Stupa. 
Everest Base Camp Trek kicks off with a picturesque flight from Kathmandu to Lukla, which lasts about half an hour. The 62 km trek starts from the town and ends at the foot of a Khumbu Icefall. 
The trail makes its way through many remote villages, wide valleys, and steep hills to get to the base camp. It has a series of steep ascents with a switch back to level ground walk at some point. Visitors of Everest Base Camp Trek will have to cross the suspension bridges and walk through the forest. They may also have to scramble along the loose rocks and boulders to reach the base camp. 
As they travel along the hillside, incredible views of snow-capped mountains, lofty hills, and river valleys greet them right from the edge. To prevent altitude sickness, trekkers will take a day off at two different places and at separate times. 
They'll be scrambling the jagged trail with loose rock and debris to reach the base camp. Besides it, this trek also features a short walk up to Kala Patthar and a close snap of Mt. Everest. Trekkers will have to descend the hills and valleys, passing Pheriche, Jorsale, and finally to Lukla. 
 Outline Itinerary
Day 01: Arrive In Kathmandu
Day 02:  Fly to Lukla and Trekking to Phakding
Day 03: Trekking To Namche bazzar
Day 04:  Acclamation Day In Namche
Day 05:  Trekking to Tyangboche
Day 06: Trekking to Dingboche
Day 07: Agian Acclimation day
Day 08: Trekking to Lobuche
Day 09: Trekking to EBC and Retrun Gorahsheph
Day 10: Climb Kalapather and return to Phiriche
Day 11: Return To Namche
Day 12: Return  To Lukla
Day 13: Fly back to Kathmandu
Day 14: Full Day Kathmandu
Day 15: Departure From Nepal
Cost Range : $ 1250 -1600
Itinerary 2:


Langtang Gosainkunda Trek + Kathmandu City  Tour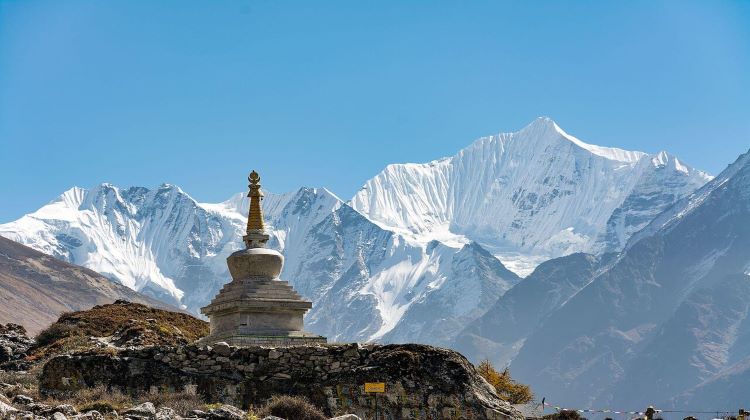 Langtang Gosainkunda is another great trekking spot for all avid hikers. It's the first alternative for many travelers, given the moderate hiking routes, spectacular sceneries, and rich cultural heritage. 
The trek starts right after the day of your arrival at Kathmandu City. At the outset, we will drive north along the Trishuli River and pass the crowded bazaar of Trishuli. Crossing Dhunche, we reach Syabrubensi.
Following the bank of Bhote Koshi River and through the terrace farm, the trail climbs up to Rimche, which lies at the bank of Langtang River. Walking from just below the landslide area, the path ascends the hill to Bamboo, followed by Rimche. 
It also moves through the rural villages and passes the deep forest filled with birch and bamboo. The trek continues with an ascent through the forest and a narrow river valley, which widens out from Ghora Tabela. It has us traveling through the rural settlement, where there are many prayer flags and Mani wheels. 
We'll have to walk through the steep-sided valley long after passing the Lama Hotel. After a while, the trail takes us to Langtang Village, which provides a marvelous view of open meadows, towering hills, and deep valleys. 
Next, the trail weaves through yak pastureland and follows the gushing streams before rising upward. The course makes us walk 4 miles up the highland, finishing at the Kyanjin Gompa. There's an ancient Tibetan monastery at the crest, adorned with colorful prayers, flags, and wheels, which is strikingly attractive. 
The view from the top is unrealistic, with surrounding mountains, rocky hills, and deep gorges. Most visitors spend a day here, navigating the rugged terrain and steep ridge to reach Kyanjin Ri. It's a side trek and a major highlight of the Langtang Gosainkunda trekking, especially with all the photogenic landscapes, Langtang Lirung Glacier and Langtang. 
From here, the trail slowly approaches Shyabru village, passing through Lama Hotel. It travels almost 7 miles along the rivers and through the alpine forests to get to this rural settlement. Leaving Shyabru on the next day, the trail again makes its way to Gosainkunda, traveling the narrow lane with a few drops. 
Most of its paths are still uphill, gaining higher elevation. It ascends a steep hill and squeezes through the dense woods to Cholangpati. A rocky scramble with a few ups and downs and finally gazing at the mesmerizing Gosainkunda Lake. 
After the trek of Gosainkunda, the trail descends the hills and runs through the old villages, ending at Dhunche. The journey from here is easy as the travelers drive to the city, which takes approximately 2-3 hours. 
The following day, travelers will go on a cultural tour of Kathmandu City, which is a treat for the eyes. It gives them a short tour of the major attractions of the City, which includes Kathmandu Durbar Square and Monkey Temple. Other additional tour includes a visit to popular religious sites such as Boudhanath Stupa and Pashupatinath. 
Travelers will spend their last day at Kathmandu City by exploring Bhaktapur Durbar Square. It's an ancient Newari City with loads of historical and cultural artifacts, architecture, and artistry. Nayatapola Temple, Lion's Gate, Vatsala, and stone statues adorning the beauty of the temple are the major standout in the trip. 
Day To Day Itinerary
Day 01: Arrive Kathmandu
Day 02: Drive to sybrubesi
Day 03: Trekking Lam Hotel
Day 04: Trekking Langtang
Day 05: Trekking to Kyanjin Gompa
Day 06: Hiking Kyangin Gompa
Day 07 : Trek back  To Lama Hotel
Day 08: Trek to Shybru Village
Day  09: Trek To  Singompa
Day 10: Trek To Gosaikunda
Day 11: Trek Back to Singgompa
Day 12: Trek Back to Dhunche
Day 13: Drive back to Kathmandu
Day 14: Kathmandu Sightseeing
Day 15: Departure from Nepal
Package Trip Cost range : $ 700 – $ 1200
      Itinerary 3: 
Annapurna Base Camp Trek + Chitwan + Kathmandu  Tour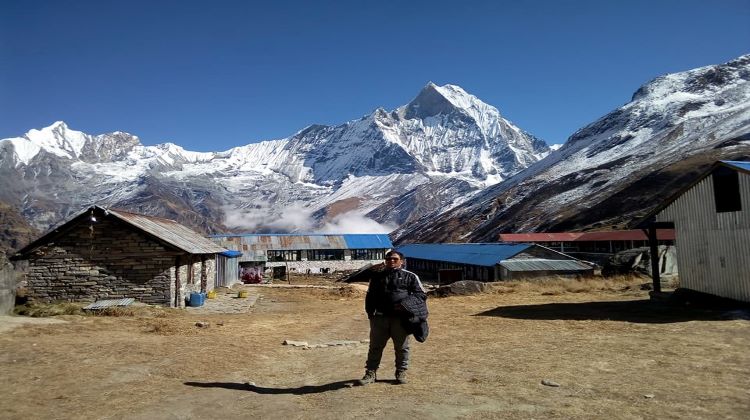 Annapurna Base Camp Trek with Chitwan Jungle Safari and Kathmandu City Tour is the most incredible holiday package. It provides the taste of everything to the travelers, including a fun adventure in the lowland. 
Since Pokhara is a go-to destination for most travelers coming to Nepal, the trip begins with a direct flight to the city. The journey to Pokhara is quite beautiful, with the majestic view of rocky mountains, Marsyangdi River, and vibrant valleys. The city is a tourist hub and a real gem with so many amazing things to do. 
The trek to Annapurna Base Camp also starts from the town after a short drive to Kimche via Syauli Bazaar. The trail doesn't require much route-finding with easy navigation. It has a few steep ascents, huge drops, and a downhill walk. There are many small streams and gushing rivers, which travelers will have to cross using a suspension bridge. 
The day hike includes a scenic walk through the villages of Dovan and Deuarli. Paving the way through the Annapurna sanctuary, the trail follows the narrow gorge and travels along the glacier valley, finishing at the base camp. It rewards the trekker with an astonishing view of glistening mountains and glaciers. 
After giving the trekkers a stunning glimpse of diverse landscapes and valleys, the trail makes them descend the hill to Bamboo and Jhinu Danda. Visitors will further climb down the track until Nayapul and then drive back to Pokhara. 
Another day of the trek will see the travelers driving along the hills and mountains to get to Chitwan National. On the way, they'll be enjoying some amazing views of rural villages, lush meadows, and peaceful forests.
After completing the ABC trek, we will continue our journey towards Chitwan. Visitors will get to absorb the immensity of nature during a jungle safari in Chitwan National Park. They'll get to explore a wide range of wild animals, birds, and vegetation during a tour of the sanctuary. After spending a whole day exploring the wilderness and diversity in the geographical formation of Chitwan, the trip turns back to Kathmandu.
Upon the return, travelers will have a cultural tour of the city as it has so much to offer its visitors. From its bustling streets with historical buildings and museums to jaw-dropping architecture, and cultural landmarks, the city has so many amazing places to sight. The city tour includes a visit to the wonderful Bhaktapur Durbar Square, Swayambhunath, Boudha stupa, and Pashupatinath. 
Day By Day Itinerary
Day 01:  Arrive In Kathmandu
Day 02: Fly to Pokhara, Drive Nayapul Trekking to Ulleri
Day 03: Trekking to Ghorepani
Day 04: Hiking Poonhill trek to Tadapani
Day 05: Trekking to Chomrong
Day 06: Trekking to Himalaya
Day 07: trekking to Base camp Annapurna
Day 08: Back to  Bamboo
Day 09: Trek Back to Matque and Drive back Pokhara
Day 10: Drive Chitwan
Day 11; Full Day Jungle Activities
Day 12: Drive Kathmandu
Day 13,  Full Day Kathmandu city tour
Day 14: Departure from Nepal
Price range : $ 800 to 1300
Itinerary 4-
Annapurna Poon hill Trek  + Rafting + Jungle Safari + Everest Flight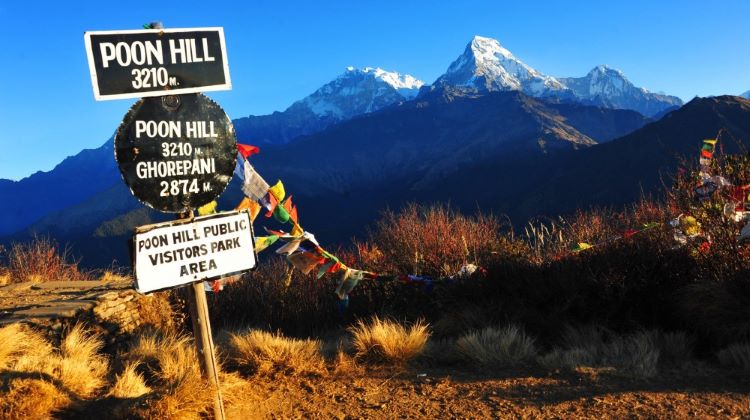 The 4 days Poon Hill Trek with a cultural city tour, rafting, jungle safari, and a fly-over Everest is dedicated for hikers of any level. It provides them a great chance to immerse themselves in nature and relish the scenic views without spending endless time. 
It combines thrill-seeking adventures like rafting and jungle safari with the lavish and leisurely Everest mountain flight. First off, travelers will take a fascinating tour of Kathmandu City and explore some historical landmarks and religious sites. 
It comprises a whirlwind tour of Kathmandu Durbar Square, Monkey Temple, Boudhanath Stupa, and Pashupatinath. The 14 days trip kicks off with a lovely ride to Chitwan via Prithvi Highway. The 97 km lane provides an imposing view of sharp hills, lush green forest, and gushing streams. 
It has rapids like the Trishuli River, where visitors stop and experience the river rafting on the turbulent water. At Chitwan, they'll go on a jungle safari for the incredible sights of subtropical forests swarming with wildlife. 
Next, the visitors will turn to Lumbini, driving a 159 km long highway. On this day, they'll explore cultural landscapes, traditional arts, and pilgrimages at the birthplace of Gautam Buddha. To discover the unreal beauty of Pokhara, travelers will travel to Pokhara from Lumbini via Tansen. They'll spend a day here strolling through town, walking lakeside, and watching snow peaks. 
Early next morning, trekkers will kick off their Poon Hill Trek by taking a scenic drive to Nayapul. The trail starts at Nayapul and travels through the jungles and over rivers, mounting the steep hills. Ghorepani is one of the first villages where they'll stop before heading to the viewpoint. 
Scrambling the trail of minimal elevation gain for about an hour or two, trekkers will make it to the summit.  After sighting the spectacular view of Annapurna massif, Machhapuchhre, and Nilgiri Himal, trekkers will descend the trail to Ghandruk through Tadapani. Leaving the trail, they'll take a scenic drive to Pokhara before flying from the city. Upon arrival at Kathmandu, travelers will spend an entire day exploring Bhaktapur Durbar Square, which has extraordinary cultural and historical monuments. Visitors can witness narrow laneways, royal palaces, artifacts, and temples, including Nyatapola. 
Trip itinerary 
Day 01; Arrive to Nepal
Day 02: Full Day Kathmandu Sightseeing
Day 03:  4 Hour Trisuli rafting and Drive Pokhara
Day 04;  Drive Naypaul Trekking to Ulleri
Day 05: Trekking to Ghorepani
Day 06:  Climb Poonhill trek to Tadapani
Day 07: Trekking to Chomrong
Day 08:  Trekking and Drive back To Pokhara
Day 09: Pokhara Sightseeing
Day 10: Drive Chitwan Wildlife Jungle safari
Day 11: Full Day Jungle Activities
Day 12: Drive Back to kathmandu
Day 13: Everest Mountain Flight and Bhaktpur sightseeing
Day 14: departure from Nepal
price range : $ 800 to $1200
Itinerary 5:


Annapuran Mardi Himal Trek +

Kathmandu  + Rafting + Chitwan+ Lumbini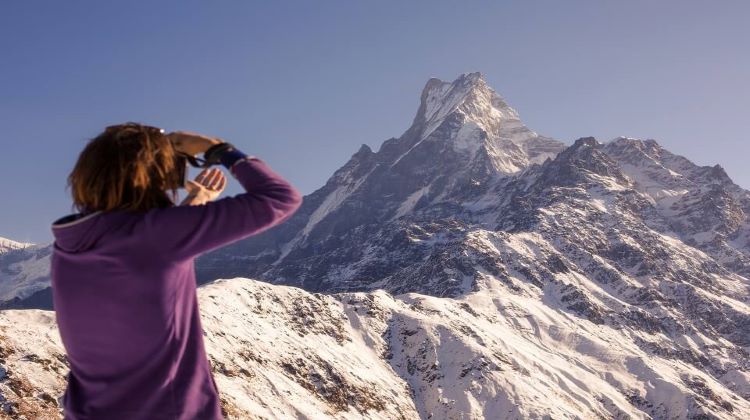 There's no better place than Kathmandu to start the holiday in Nepal. It has a whole heap of amazing places to visit and exciting things to try out. From art galleries to museums, historical landmarks, and cultural monuments, the city is packed with so many remarkable wonders. 
The iconic Kathmandu Durbar Square is one of the greatest attractions of the city. It's made up of ancient temples, courtyards, statues, and other structures just like Swayambhunath, which is another common stop for visitors. 
Sightseeing in Kathmandu also comes with a visit to Boudhanath Stupa and Pashupatinath Temple. They are the most significant and oldest religious shrines of Buddhists and Hindus. Both these pilgrimages epitomize the diverse culture and religion of Hindus with great architecture. 
Next, we have an electrifying adventure for the thrill-seekers who want to rush downstream and navigate the cascading water between high hills and forests. Rafting with jungle safari is a recreational activity for all the visitors so that they can enjoy the beauty of nature in the least amount of time.
On the trip to the jungle, visitors will get to witness different wild species, birds, and habitats. On the next day, we'll drive to Lumbini, the birthplace of Buddha. They'll spend a day here, visiting ancient temples and pilgrims decorated with prayer flags and Mani wheels. 
Next, it's a scenic drive to Pokhara, which lasts almost hours but comes with an incredible vista. The closer you arrive at the city, the more pleasant their trip will be with a breathtaking view of Annapurna massif and Phewa Lake. 
The 5 days Mardi Himal Trek begins from Pokhara and sees them walking into the woods and climbing steep hills. The 24 km walk includes a trek to Deurali and a forest camp, which is best known for its rich flora and fauna.
The trailhead to high camp is a bit difficult with a continuous uphill walk. There's more of a climb than the hike on this section, taking us to the ridge from where the north face of Annapurna can be seen. Following the Modi Khola River Valley and narrow ridgeline, the trail ends at Mardi Himal Base Camp. 
This marvelous hike offers visitors a stunning view of Annapurna mountain ranges, Machhapuchhre, and other snow peaks to watch. The return trek is significantly more relaxing with a downhill walk. Its trails are shorter compared to the ones previously and have fewer miles to cover. 
The trail gently descends to Sidding via Badal Danda, passing lush green terrains and hillside villages. It takes about 4 hours to arrive at this beautiful village, which nestles at the end of the forest. From here, travelers won't have to trek any further as they can just ride back to Pokhara. 
There are 2-3 hours of sightseeing in the early morning at Pokhara. The glistening Machhapuchhare in the distance, wild forest, and serene lakes make for an unforgettable view before the travelers fly back to Kathmandu. 
After returning to the valley, they'll enjoy the last day of the trip with a short and cultural tour of Bhaktapur. On their visit to Bhaktapur Durbar Square, they can see ancient temples built in pagoda style, the architectural facade of brick, and traditional Newari buildings. 
Trip itinerary
Day 01:  Arrive In Nepal
Day 02: Guided Kathmandu tour
Day 03: 4 Hour River rafting and Drive to pokhara
Day 04: Drive Kande trekking to Deurali
Day 05: Trekking to CForest Camp
Day 06: Trekking to High camp
Day 07: trekking to Base camp and Back to badaldanda
Day 08: Trek back to Sidding and Drive back Pokhara
Day 09: Pohara Sightseeing
Day 10:Drive to Lumbini ( Buddha Birth place)
Day 11: Drive Chitwan for Jungle safari
Day 12; Full Day Jungle Activities
Day 13: Drive Kathmandu
Day 14,  Full Day Kathmandu city tour
Day 15: Departure from Nepal
Price Range : $ 700 / $1100
Need More information? Contact Us?
Email: info@greathimalaya.com
Call WhtsApp: +9779841273869