The High Passes Trekking is suitable for those people who love adventures and challenging trekking in the Himalayas, hiking in high altitude, walking in Himalayan glacier, crossing the Ice passes among the high mountains.
Trekking to High passes in Nepal is a great and adventurous walk to discover the Himalayan indigenous culture, heritage, monuments, stunning and heart touching valley views of hills as well as exploring the different panoramic Mountain Views.
There are many high pass trekking destinations. Some high passes are really full of carriage and difficulties. Requiring the trekkers must be skilled and use technical climbing equipment.
We here at Adventure Great Himalaya Treks & Expeditions present listed  the 5 best  High passes trekking  in Nepalese Himalayas. Read through them.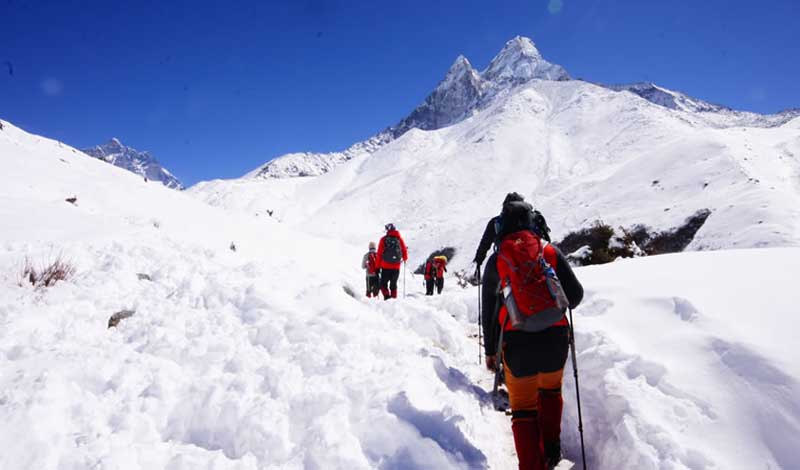 Everest Three Passes Trek is a less-traveled and best high passes trek for those with experience. It is an ultimate and complete trek in Nepal because it covers most of the Everest region on its circular route. This links the Everest Base camp with Gokyo Lake trek.
The Khumbu region is prosperous with several trekking destinations, and among them, the Everest Three High Pass Trek is quite an adventurous one. This journey combines the classic Everest Base Camp tour with the three high passes.
The 3 Pass Trek  takes you on a high altitude trekking over the three passes of the Everest area, i.e., Kongma La (5535 m), Cho La (5380 m), and Renjo La (5388 m). Also, let you set foot in the base of Mount Everest and climb Kala Patthar.
The Everest Three High Pass trek is a Challenging 21 days  Journey   inside the routes of Sagarmatha National Park.All these destinations lie above 5000 m altitude, The trek is breathtaking, with panoramic views of the mountains and incredible landscapes. You get to see many peaks like Mount Everest, Island Peak, Ama Dablam, and many more.
The trip starts with a flight to Lukla then trek to Phakding. From here, you follow the trail to Namche and then head to Tengboche monastery. The next day, you hike to Dingboche and move to Chhukung.
After Chhukung, you cross your first high pass Kongma La and descend to Lobuche. Then you head to Gorak Shep and hike up to Everest Base Camp and return.
The following day you walk up to Kala Patthar and drop back to Lobuche. You follow the route to Zhonglha and cross another pass, Cho La and descend to Thangma.
Later, you walk to Gokyo valley, climb the final Pass Renjo La the next day, and head to Marlung. From here, you follow the route back to Lukla and fly back to Kathmandu.
Best Time to Visit Everest Three Passes is generally in Autumn and Spring season. In these seasons the temperature becomes mild and the scenery is clear and beautiful. The vegetation also becomes lush and gives a great view of rhododendrons and other flowers in bloom.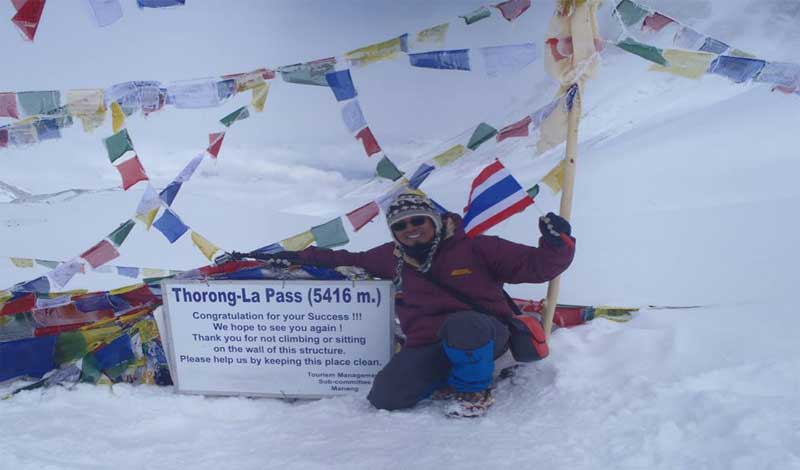 Thorong-La Pass is mountain pass elevating at 5,416 meters (17,769 ft) above sea level. It is a thrilling and popular trekking Pass in Annapurna Region. This pass is on the trail connecting Manang in the east to Mustang in the west. It is also the highest point in the Annapurna Circuit Trek.
Thorong-La pass provides you with a beautiful and stunning life-changing experience. Having a reputation as one of the classic and best trekking passes in the world, it welcomes thousands of tourists every year. It is an easier and less taxing alternative to another popular trekking option, Everest Base Camp.
Starting from Kathmandu, this trek usually spans for 13-18 days depending on the package you choose. From there it well on goes to a final altitude of Thorong La pass at the height of 5416m. The route varies between 160km – 230km depending on the option of the trek. This trekking route takes you along the foothills of mountains such as Manaslu, Machhapuchhre, Langtang Himal, Annapurna II and IV. It also gives you mesmerizing views of Annapurna III and Gangapurna, Annapurna I and Dhaulagiri.
While treading the Annapurna Circuit trek you also get the chance to visit the world's deepest Kali Gandaki gorge. The Thorong-La Pass lets you experience the warm hospitality and culture of native people. It also passes through villages like Manang, Jomsom and the Muktinath region. This helps you to get you acquainted with the diverse Nepalese landscape and culture.
 Larkya-la pass  Trekking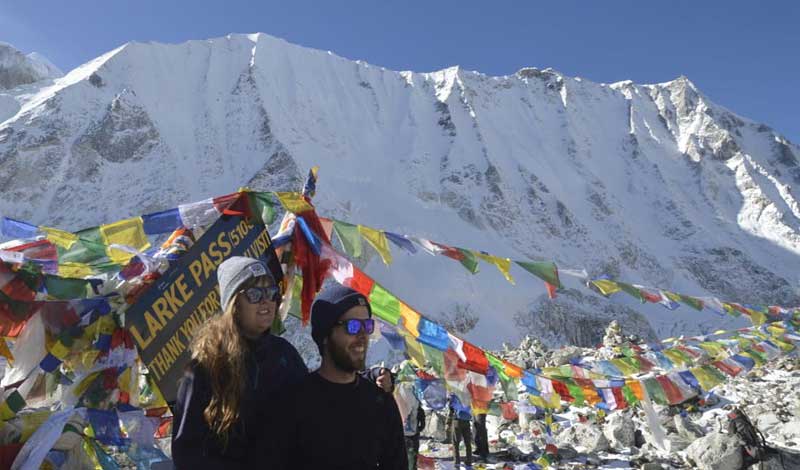 Larkya La Pass Trek  is one of the longest passes in Nepal Himalaya situated at 5125 m above the sea level. It lies in between Dharamshala and Bhimtang. It is the highest point of the 17-day Manaslu circuit Trek.
This trekking pass is a recent trail which lets you see the snow-capped peaks on the Nepal-Tibet border. This trail goes around Mount Manaslu which is the 8th highest peak in the world. This trek is diverse and remote. This makes it perfect for those who want to experience the quiet beauty of nature with less crowd.
It takes you from the semi-tropic temperature to an alpine forested area. It takes you even further to ice-fields and glaciers of arctic terrain at Larkya-la. Manaslu is one of the few restricted areas of Nepal. This restriction is for the protection of the natural environment and culture. At least two trekkers are must and it is advisable to have a porter or a guide. It is also necessary to carry restricted area permits. As it is a violation of the law and illegal to trek in these areas without a permit.
We also provide trekking packages for Larkya-la pass which is also called Manaslu Circuit Trek at a good price.
Kang-la pass  Trekking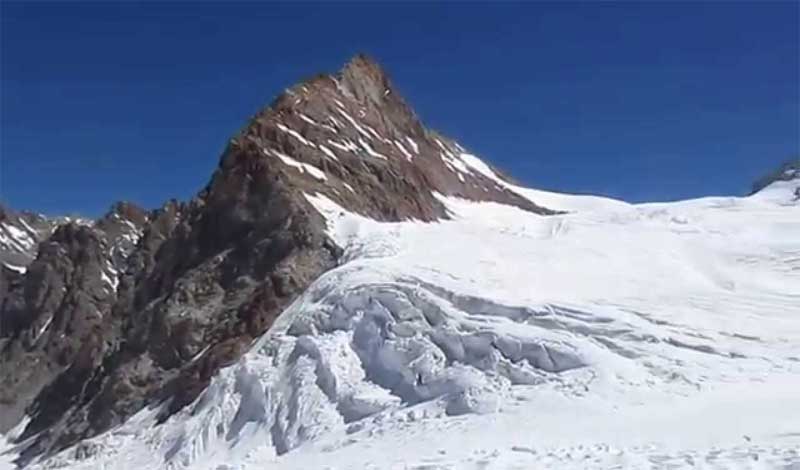 Lying at the remote area of Dolpo, Kang-la pass is 5,320 meters high altitude pass. It is in the northern corner of the Annapurna region. Kang-la is one of the most difficult and famous Himalayan passes.
The Nar Phu valley Kang la pass trekking was open in 2003 for the Trekkers; by King Mahendra. The Kang-la Pass passes through the magnificent Himalayan range of Annapurna. It also lets you experience the medieval Tibetan culture which has been far from civilization. You can explore the Gangapurna glacier and also visit Tilicho lake too.
It offers fantastic views of the Annapurna massif, Lamjung Himal, Manaslu Himal, the Dhaulagiri range and Tilicho peak. It is a hidden valley journey in the Manang and Mustang district.
Ganja-la Pass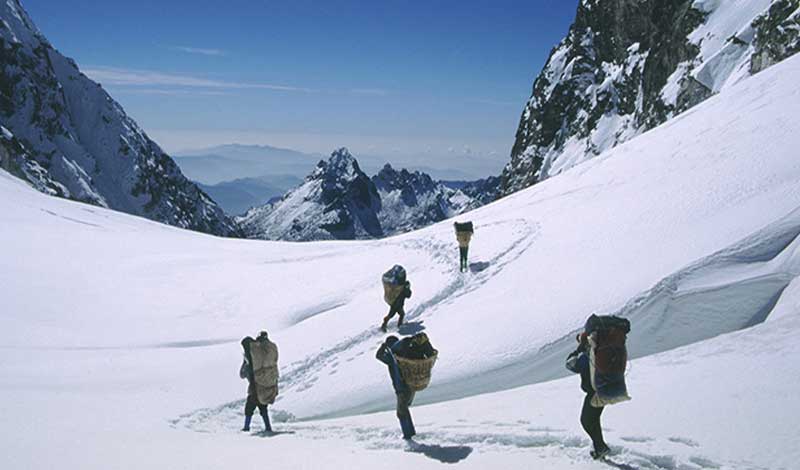 Ganja-La Pass trekking is one of the most challenging trekking routes in the Langtang Himalayan region of Nepal. It is popular for its diverse vegetation and cultural villages. The trek also lets you experience the unique Tamang culture and a chance to walk past the beautiful glaciers at a quite low altitude.
While it is a difficult pass, it will also be one of the most satisfying and memorable trekking journeys you will ever make. From the top of the pass, you can have mesmerizing views of the Langtang Lirung and other equally awesome Tibetan peaks. It includes an eight-thousander called Shisha Pangma.
In short, you can say that this trek comprises of the best of the Langtang region. But crossing the pass involves climbing through a very steep section through an avalanche-prone valley. It is physically taxing trek so proper training and preparation are advisable. You will require proper gears to complete this trek through this difficult pass.
We also provide a trekking package which passes through the trails of Ganja-la Pass at a good price:
Conclusion
These are some of the delightful high passes treks in Nepal and fall easily among the top 5 high passes in the country. However, high pass trekking requires a great deal of preparation as well. But these strenuous treks will reward you with some of the most stunning mountain views in the country.