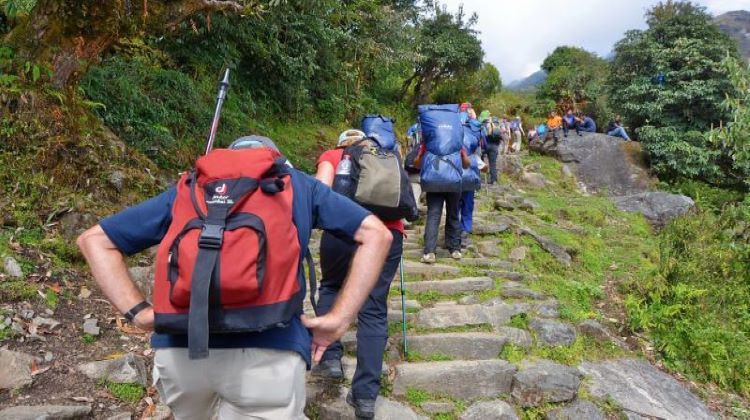 Day hike in Kathmandu are ideal for those who want to have a quick adventure and have a compact schedule. The green hills of Kathmandu Valley (1400m) are perfect for a hiking journey. Hiking around Kathmandu valley offers you with excellent views of snow capped mountains and exploration of Nepalese rural lifestyle.
Hiking around  Kathmandu  experience the incredible 360 degrees Himalayan panorama hiking along trails. You will hike the natural trails of the region at a modest pace. Hiking around Kathmandu valley will take you through green fields and traditional settlements. Anyone with a basic level of fitness can complete these hikes with ease.
We are offering these spectacular trips at a reasonable cost. Read on to know more about these exciting day hiking tours in Kathmandu and book your trip now!
Highlights Of Kathmandu Day Hikes
Quick adventure with a compact schedule
360 degree views of snow-capped Himalayan mountains
Exploring the rural Nepalese culture and lifestyle
Walking along natural trails at a modest pace
Spotting diverse flora and fauna along the trail
Ideal for all skill levels from beginners to experts
Close proximity from the capital city
Available at a reasonable cost
Best Time for Hiking Around Kathmandu
You can go hiking all round the year. However, the best time for day hiking tours in Kathmandu is Autumn and Spring.
The Autumn  Season months from September to December is known for its stable weather conditions and moderate temperatures. You will get to observe the snow capped mountains in a clear blue sky. Besides that, many festivals including Dashain, Tihar, and others also fall in Autumn.
Spring Season is another ideal time for the hike. Spring months from March to May is a scenic time with green vegetations flourishing all over the trails. You can also spot a diverse range of wildlife that come out of their winter hibernation. Favourable day time temperatures and clear skies is the highlight of the hike in Spring.
Besides that, the monsoon season from June to August brings heavy rainfall in the region. This leads to slippery and leech infested trails in the region. Winters are freezing cold in the higher elevations. Overall, Autumn and Spring are the ideal time for day hiking tours in Kathmandu.
Hiking In Kathmandu Trips
Why booking with us ?
Fully Locally Owned Company
Quality Of Service and Competitive price
Highly Professional Staff
Flexible and customization trip itinerary
100% Customer satisfaction
Need help?
Nepal: 00977-9841273869
whatsapp
: 00977-9841273869
24 hour customer service