Kathmandu Bhaktapur Day Tour- 7, 8 Hour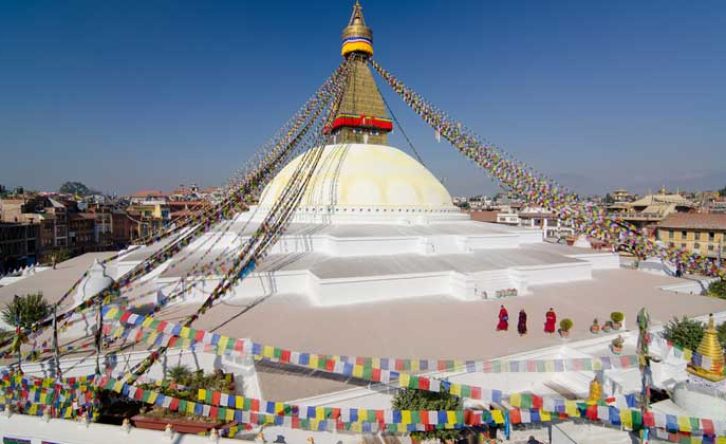 Trip Facts
Type of Tour
Culture Tour
Overview
Kathmandu and Bhaktpur Day Tour-7-8 Hours
(Tour Highlights: Visiting Four World Heritage Sites)
The beauty of these Kathmandu Bhaktapur Day Tour  designed to take you different places that are significant in a short span of time-in this case four World Heritage Sites in Kathmandu namely Baudhanath, Pashupatinath and two Durbar Squares of Patan and Bhaktapur. The first two sites listed above are religious areas whereas the latter two are Grand old Palace Squares.
We'll start off by visiting Baudhanath which is one of the largest Buddhist Stupas of its kind in the world. It's designed in a dome shaped architecture having some protection walls at the bottom. Though these designs having hemispherical mounds existed before the time of Buddha, it was incorporated extensively by Buddhist after Buddha's death as a place of worship. The monument is popular for Nepalese Buddhists which also happens to be one of the finest examples of this particular architecture characterized by circular bases having a monument at the top.
Our next stop is Pashupatinath which is another fine example of Nepalese architecture. This temple designed in pagoda style is one of the world's most important Hindu sites. It carries religious and architectural importance. The area is home to thousands of temples both large and small showcasing designs, chiefly that of Pegoda and Shikhara style. The tour will also help you understand the meaning of life as you might witness many a body being cremated by the bank of the river Bagmati when a Hindu dies.
By now your tour is almost half complete but the excitement of visiting two more World Heritage Sites are still awaiting for you. You will be heading to Bhaktapur Durbar Square next which is actually a palace from the Malla Dynasty who once ruled Kathmandu Valley for almost a thousand years. The square in the middle of the old city Bhaktapur is home to a grand old palace with temples and old buildings dating back many centuries. The place is a well preserved ancient Newari settlement where the indigenous Newars live. Actually modernity has slowly worn away the shine of the old charm this place once had. By the late afternoon you will have almost completed the tour but not before you finally visit Patan Durbar Square which is your last stop.
Like Bhaktapur Durbar Square Patan Durbar Square bears the similar resemblance in designs. Here again, the place being the old palace has one of the finest temples, monuments and buildings found in the valley–after all the kings once stayed here. The area boasts of elaborate architecture and designs that one can still see. Though the great Gorkha Earthquake had toppled some temples some three years ago the Nepalese Government is doing every bit to restore this place to its earlier grandeur. The tour will finally end by the evening after which you will be heading back to your hotels.
The Places  Of Visit Kathmandu  and Bhaktapur Day Tour
1,  Shyambhunath Temple ( As Monkey Temple)
2, Patan Durbar Squire
3, Bhakatpur Durbar Squire
4, Pasupatinath Temple
5, Boudhanath
Price:
USD 75 for  1 person
USD 40 per person for 2 people
USD 28 per person for 3 people
Do you have big group? Contact Us
E Mail; info@greathimalaya.com, Whats App: +977-9841273869
Trip Itinerary
Cost Include/Exclude
What's include
Private car/ Jeep with Ac/ heater
A professional, English Speaking Tour guide.
Company T-shirt and Cap
Company Service charge.
What's excluded
Hotels in Kathmandu
All the entrance fees which is about $47 per person.
Al Meals.
Tips for Tour guide and Driver.
Gallery