Home to lofty peaks, incredible scenery, and a rich cultural heritage, Nepal is one of the world's best trekking destinations.
But with so many different treks to choose from, selecting just one hiking route for your next expedition in Nepal isn't easy—especially if you have an appetite for adventure.
In this article, we'll introduce you to the 5 most challenging treks in Nepal. Whether you're looking to push yourself physically or you simply want to head off the beaten path, here are 5 excellent, yet difficult, treks to consider for your next trip to the high Himalaya.
Everest Three Passes Trek
Trek Duration: 20 days
Maximum Elevation: 5,545 m (18,192 ft)
Best Time: September–December or March–June
Type of Trek: Tea House/Lodge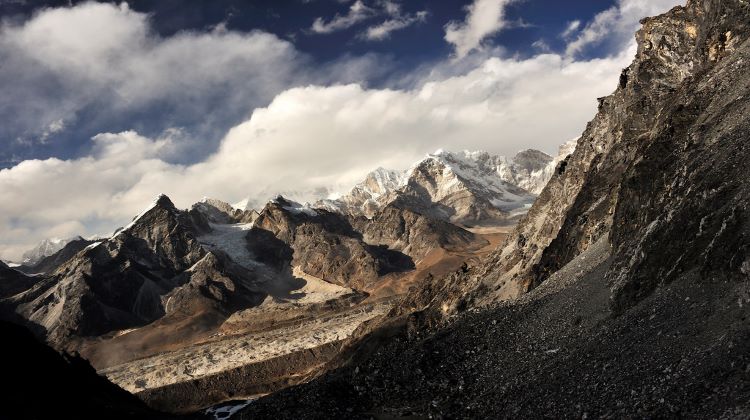 Of all Nepal's well-established trekking routes, the Everest Three Passes Trek is easily one of its most difficult. This 20-day trek takes you into the heart of Nepal's famed Solukhumbu District and onto the path less traveled around Mount Everest.
Like most treks into the region, this adventure takes you to see Everest Base Camp, but that's just one part of the fun. Before you reach base camp, you'll have to cross Kogmala Pass at 5,535 m (18,159 ft). After your time at the foot of Everest, you then have to climb up and over Kalapathar Pass (5,545 m/18,192 ft) and the pass at Cho-La (5,368 m/17,611 ft).
The most challenging part of the aptly named Three Passes Trek is all the time you'll spend above 5,000 m (16,404 ft) in elevation. But your hard work on this hike is well-rewarded with exceptional views of Everest, Ama Dablam, and the rest of the gorgeous Solukhumbu.
Kanchenjunga Trek
Trek Duration: 26 days
Maximum Elevation: 5,140 m (16,863 ft)
Best Time: October–November or March–April
Type of Trek: Tea House/Lodge or Camping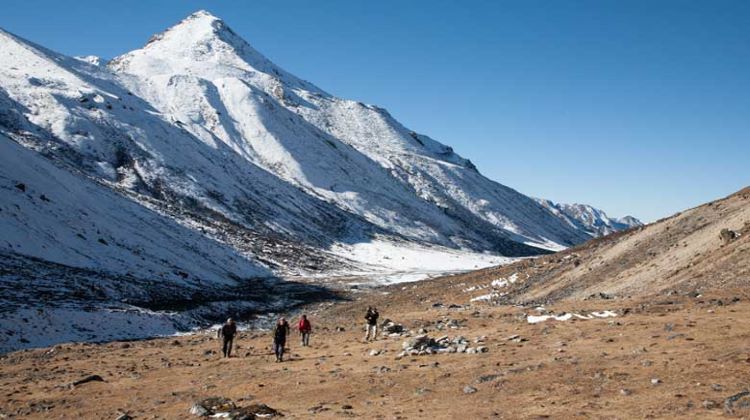 When compared to its loftier sibling Mount Everest, the world's third-highest peak, Kanchenjunga, is often overlooked. But, despite the fact that Kanchenjunga tends to exist in Everest's shadow, it's a superb trekking destination in its own right, especially if you're up for a challenge.
There are many treks you can take in the Kanchenjunga region of eastern Nepal, though one of the classic itineraries takes 26 days to complete. This trek begins with a flight to Bhadrapur and then a drive to Taplejung, after which, you'll make your way into the alpine around the Kanchenjunga massif.
The challenge of this trek includes its length and the amount of elevation change along the route. Even though you don't spend too much time above 5,000 m (16,404 ft) on the Kanchenjunga Trek, you do have to repeatedly climb in and out of the alpine, through dense subtropical forest valleys, and across several high passes.
See more about Kanchenjunga trek and Package
Trek Duration: 24 days
Maximum Elevation: 5,140 m (16,863 ft)
Best Time: February–June or August–December
Type of Trek: Tea House/Lodge and Camping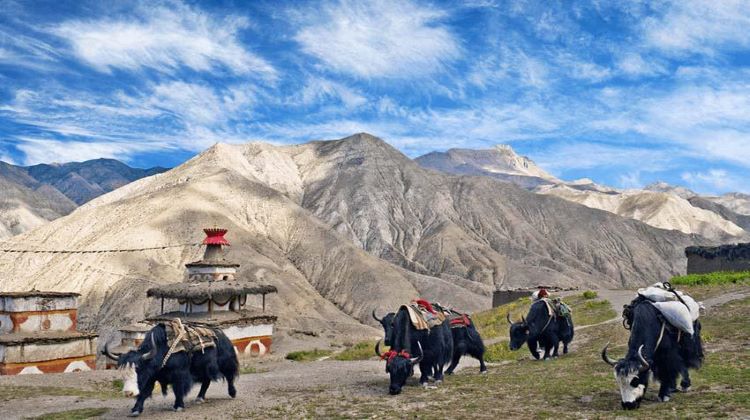 Looking to trek into a true wilderness in Nepal? The Upper Dolpo Trek just might be what you need. This infrequently traveled trekking route is fully isolated from some of the more touristy areas of Nepal and it boasts minimal infrastructure along the way.
In fact, the Dolpo region, like the Mustang, is an ethnic Tibetan region that was closed to visitors until fairly recently. Travel to the area is still heavily restricted, so the help of an experienced trekking guide is a must when planning an expedition to the Dolpo.
Along this exceptional 24-day trek, hikers get a chance to cross 3 passes above 5,000 m (16,404 ft): Jeng La, Shey La, and Kang La. You also get to trek to secluded lakes and waterfalls and you can enjoy the privilege of spending the night in rural villages where the views from your tea house or tent are nothing short of mind-boggling.
Trek Duration: 17 days
Maximum Elevation: 4,200 m (13,779 ft)
Best Time: September–December or February–June
Type of Trek: Tea House/Lodge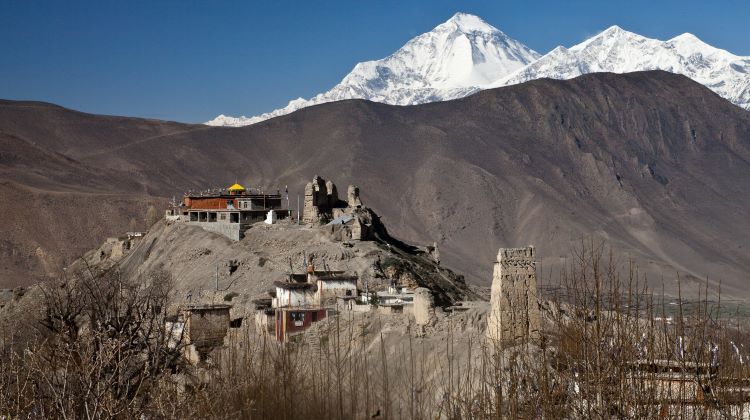 For a truly remote adventure in the high alpine of Nepal, consider the Upper Mustang Trek. The Mustang is a rugged region situated in the north-central part of the country that's a bastion of Tibetan culture. Due to geopolitical reasons, access to the Mustang was highly restricted until the 1990s, so the area sees substantially less tourist traffic than other parts of Nepal.
That said, a trip to the Upper Mustang is truly a wonder to behold. Over the course of 17 days, you'll trek through a region where tourist infrastructure and even trail signs are hard to come by. But you'll get to experience the wonders of an incredible culture and you'll have the rare privilege of traveling through the amazing Tibetan Plateau.
This hike follows an old trans-Himalayan caravan route that's been used for transportation and trade for centuries. While it doesn't take you above an elevation of around 4,200 m (13,779 ft), the challenge of this trail comes from the remoteness and ruggedness of the terrain itself.
Trek Duration: 20 days
Maximum Elevation: 5,416 m (17,769 ft)
Best Time: April–May or October–November
Type of Trek: Tea House/Lodge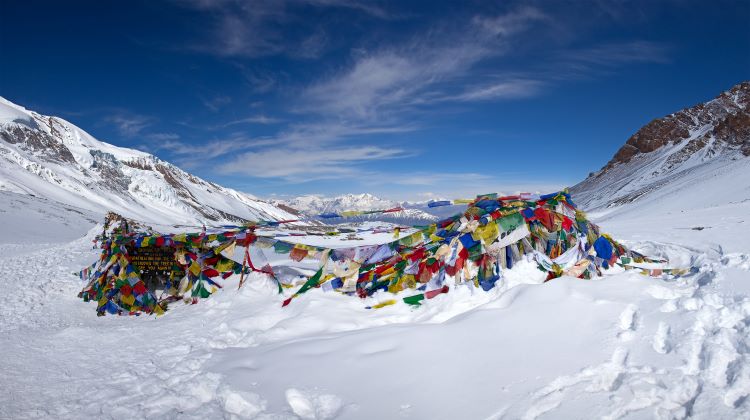 For a true Nepal trekking experience, the Annapurna Circuit Trek is one adventure that you just can't miss.
This classic trek takes you on a full loop around one of the Himalaya's most iconic peaks: Annapurna I. Over the course of 20 days, you'll circumnavigate the base of the peak and even visit the stunning Tilicho Lake, which rests at an elevation of 4,920 m (16,141 ft) on the shoulder of Annapurna itself.
But if a quick loop around a mountain and a trip to an alpine lake sounds like a breeze, think again—the Annapurna Circuit Trek is no walk in the park. This hike requires 20 days of walking through steep, high-elevation terrain. You'll even get to cross one of the highest passes in the country, Thorong La (5,416 m/17,769 ft), to test your stamina in the alpine.