Trekking In the Himalaya  is all about embarking on adventures and lifelong memories. That is why Nepal has been on the top bucket list of every traveler.
Nepal is a country rich in the high Himalayas. It has a range of many soaring mountain ranges above 8000 meters. Amidst 14 highest peaks, Nepal houses eight of them including the highest Everest. Each of these high peaks features their own base camp. Thus, Nepal is an ideal destination to confront those lovely mountains. That is why Nepal is getting popular choice amongst other South Asian countries. Nepal lies at the uppermost for South Asian Himalaya Trekking. 
Thus, if you are planning for Trekking into the Himalayas, you need to find the right destination. There are many types of trek based on popularity, scenery, culture, and price. Brace yourself as you start your journey to explore the Best Himalaya Treks.
Here is a list of some of the Best Himalaya Treks. They take you right in front of high Himalayas. Most of them are at greater elevation and from moderate to strenuous grades. Do get to know more about them and let your adventure begin.
Location:  South Asia, Nepal
Rank   : A Tallest Mountain In The world. ( 8 848m)
Trekking Length – from 10 Days to 20 Days
Popular Trekking Trails:  Mt Everest Base Camp,  Gokyo Lake, Kalapather, 3 High Pass
Permit:         TIMs Permit, $ 10, Sagarmath national Park- $ 30, Local Tax-$20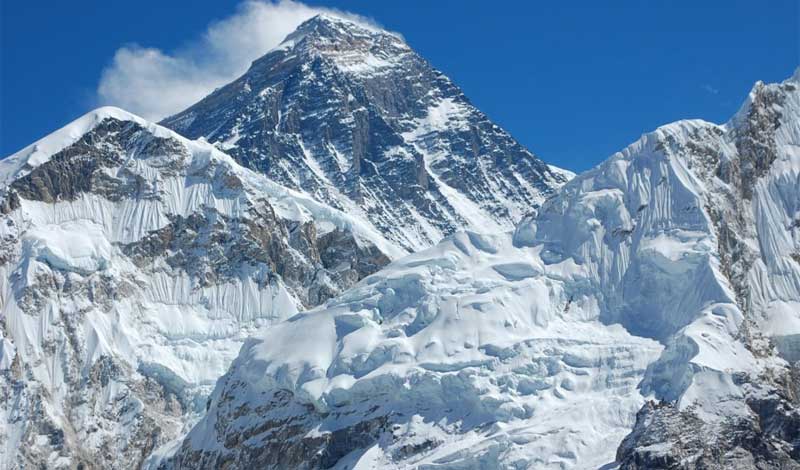 If you want to enjoy the real taste of high Himalayas, Everest Himalaya Trekking in Nepal is the best option. Everest Himalaya Trekking takes you to the beautiful land of Everest. This trek is the most demanded feat in the entire world. You get to explore the best Himalaya trekking trails of Nepal. You get to explore every nook & corner of the whole Khumbu region.
Khumbu Region lies in northeastern Nepal i.e. the Nepalese side of Mount Everest. It is a part of the Solukhumbu and encompasses Sagarmatha National Park. Sagarmatha NP is the most scenic masterpiece in the lap of Mount Everest. It is also listed as a World Heritage Site by UNESCO. It exemplifies unique flora & fauna in the spectacular landscape with charming nature.
Moreover, Everest Himalaya Trekking flaunts a dramatic range of Mahalangur mountains. You get to delve into the deep valleys located alongside exclusive glaciers. Besides the gigantic peaks, you meet with amiable Sherpa. You can explore their culture, traditions, and way of life in Khumjung Village. They make your journey more memorable and remarkable.
You can explore these exciting destinations under the best Everest Himalaya Trekking in Nepal:
Everest Base Camp Trek is an adventurous trip that takes you to the base of mighty Everest. You can complete this trek within 12 days. You must prepare a proper itinerary and plan enough acclimatization days. This trek follows the legendary foothills of Sir Edmund Hillary and Tenzing Norge Sherpa. You begin your trek at Lukla. And the vantage point is Kala Patthar at an altitude of 5500 meters. You get close to peaks like Everest, Cho Oyu, Lhotse, Amadablam, etc. Likewise, the view of sunrise from the top looks outstanding.
Gokyo Lake Trekking is one of the challenging adventures of the Everest Region. This trek demands good physical and mental fitness. This trek is an alternative route to traditional Everest Base Camp. This trek is also great for those who prefer less busy trails. It lets you explore the unexplored Gokyo valley and Gokyo Lakes. The lakes are the world's highest freshwater lake system within the altitude of 4700m to 5000m. The highest point of this trek is Gokyo Ri at 5,357 meters. En route to Gokyo, you get to witness Ngozumpa Glacier. It is the biggest glacier of the Khumbu.
Everest Three Pass Trekking is a true Himalayan journey of a lifetime. This trek offers you the ultimate trekking experience in the Everest Region. You will be walking to the remote and untouched area of the Everest Region. You explore the core of the Himalaya Sherpa life. The main perk of Three Pass Trek you visit the seven superb destinations over 5000 meters. They are Renjo La, Cho La, Kongma La, Gokyo Ri, Kala Patthar, EBC, and Chukung Ri. You will complete this trek within 20 days. Thus, this challenging feat is for well-trained trekkers. No wonder, you will get wonderful memories from this trek.
Location:  South Asia, Nepal
Rank :   The 10th Highest Mountain In The world ( 8091 m)
Trekking Length – from 10 Days to 20 Days
Popular Trekking Trails: Annapurna Base camp, Ghorepani Poonhill, Jomsom. Annapurna Cirucit, Mardihimal
Permit:         TIMs Permit, $ 10, Sagarmath national Park- $ 30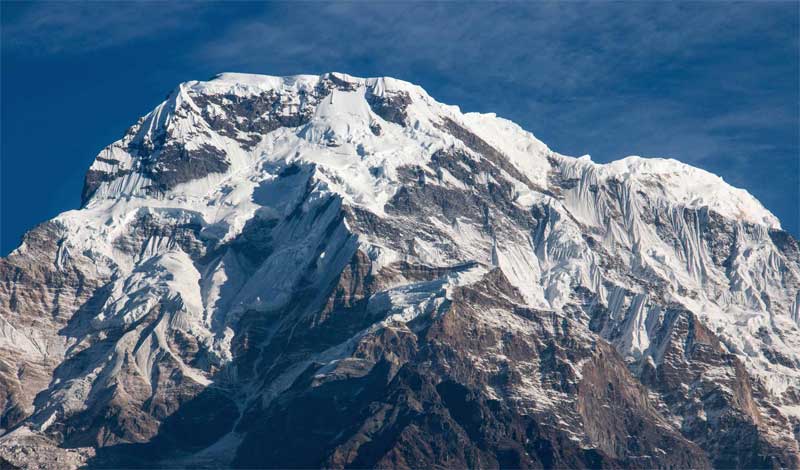 Annapurna Himalaya Trekking is the most popular trek in Himalaya Trekking in Nepal. About two-thirds of the total trekkers visit the Annapurna Region. Lying in northwestern Nepal, this region is accessible. There are plenty of hotels & lodges within the route. You will have proper facilities for food and accommodation here.
Annapurna Himalaya Trekking has one of the best trekking trails in the world. You get to explore the rich natural beauty with unique flora & fauna. Another major highlight is the numerous options for treks. Annapurna region spreads around Kaski, Mustang, Manang, and Lamjung districts. The altitude of these areas ranges from 790m to 8,091m. Thus, it is home to many trekking destinations of various levels. You can be an experienced trekker or a novice; the Annapurna region has it all.
The most diverse and popular Annapurna Himalaya Trekking trails are:
Annapurna Base Camp is a casual and most popular trek route of Annapurna Himalaya. This trek is of moderate grade. And you can complete this trek in a short time. The vantage point is Annapurna Base Camp at an altitude of 4130 meters. On this trek, you will have an opportunity to view the magnificent Annapurna range. They include Annapurna I, II, III, IV, Himchuli, Dhaulagiri, Machhapuchhre, etc. All are above the altitude of 8000 meters.
Likewise, you explore the local villages like Chhomrong, Sinuwa, Bamboo, Dovan, and Deurali. If you want to trek more, you can include short treks like  Pooh Hill Trek, Ghandruk Trek. Poon Hill is a famous viewpoint for sunrise and sunset. Located at 3120m, it gives an outstanding panorama of Annapurna ranges. Whereas, Ghandruk is an ethnic village of a typical Gurung community. You get to learn more about their culture and tradition there. You can also visit nearby museums & monasteries that define their rural lifestyle. Thus, Annapurna Base Camp is a whole package of unique geographical and cultural tours. Your heart fills with full satisfaction after this awesome journey.
If you love some more challenges and adventures, Annapurna Circuit Trek is your next stop. Annapurna Circuit trek is the journey within the mount ranges of Central Nepal. In this trek, you cross two different river valleys and encircle the Annapurna Massif. The highest point of this trek is at Thorung La Pass (5416m). Your trek begins at Besisahar that lies in the Marshyangdi river valley. Likewise, taking the anticlockwise route, it concludes in the Kali Gandaki Gorge.
You can complete this trek in 18 days. Being a challenging trek, you need to prepare for this trek well. As you begin your trek, the altitude starts getting higher. You will start crossing alluring waterfalls, suspension bridges, and unique terraced landscapes. You get to touch the edge of the Tibetan plateau. Along with this, you get the dazzling view of mountain ranges and distinct natural elegance.
Annapurna Circuit Trekking also features various packages like Annapurna Circuit with Tilicho Lake Trekking. This trek will take you to the highest lake in Nepal; Tilicho. It is a classic journey that offers a wide diversity of the Himalayas and ethnic culture.
Other treks you can enjoy in Annapurna Region are Upper Mustang Trek, Tilicho Lake Trek, etc. If you love exploring more, there can't be another option than these Annapurna Himalaya treks.
Manalsu Mountain Treks

Location:  South Asia, Nepal
Rank :   The 8th  Highest Mountain In The world ( 8163m)
Trekking Length – from 15 Days to 20 Days
Popular Trekking Trails:  Manaslu Base camp, Tsum Valley.
Permit:         Manaslu Conservation $ 30,  Annapurna Conservation- $ 30,  Manaslu Special permit-$100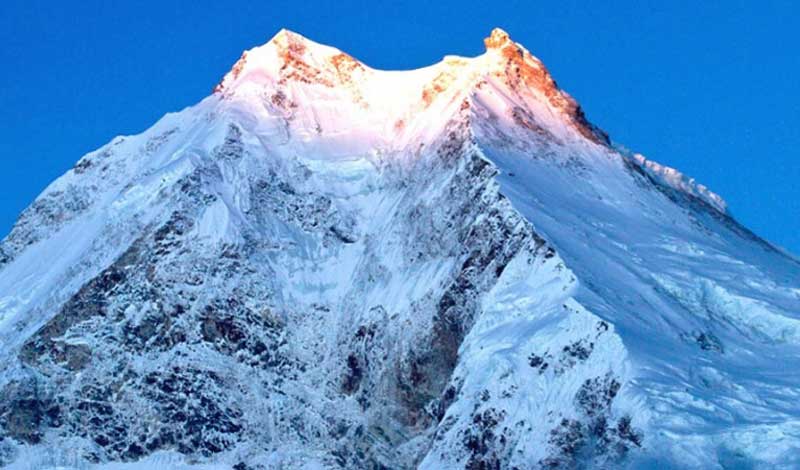 Manaslu Himalaya Trekking represents the untouched and raw Himalaya Trekking in Nepal . Manang Region lies in the west-central part of Nepal. This region flaunts Mount Manaslu with great pride. Manaslu, at 8156 meters, itself is the eighth highest mountain in the world. The word Manaslu means "mountain of the spirit". It is obvious that you get the views of the majestic mountain range. Besides, you visit long mountain ridges and valley glaciers surrounded by rustic landscapes.
Manaslu Region was once a restricted region where trekking & traveling wasn't feasible. The government permitted Manaslu Himalaya Trekking only after 1991. Still today you will require the restricted permits for trekking. You also have to follow some strict regulations. For instance, you can't trek solo in this region and must need a professional guide or porter.
Manaslu Region is home to the Manaslu Conservation Area. Established in 1997, it covers 1663 sq. km in the Gorkha District. The area comprises several peaks, glaciers that range from 1400 to 8156 meters. In this region, you get to explore unique species of natural flora & fauna. Some of them are Snow Leopard, Musk Deer, and Himalayan Thar.
Manaslu Himalaya Trekking also offers a variety of trekking options:
Manaslu Circuit Trek is the main feature of Manaslu Himalaya Trekking. It represents the best remote trekking trails of Nepal. The route comprises off beaten paths with narrow uphills and rugged downhills. As you walk in these isolated trails, you explore Manaslu's diversity within the climate, vegetation, and local culture. This trek is a true blend of natural and cultural splendor that makes your journey an exclusive one. The circuit passes by numerous mani walls, chortens, monasteries, and stupa. Within these, you witness the ancient Buddhism and Tibetan influenced culture. This is only possible as you walk across varied settlements. Some of the popular villages are Dyang, Ghap, Samagaon, Samdo, Bimthang, Tilije, etc.
The ultimate point of Manaslu Circuit Trek is Lakya La Pass, at 5125 meters. As the trails are robust, this can be a challenging feat. The main region is the increasing altitude which makes the journey quite tough. You are at a risk of altitude sickness. Thus, you need to keep yourself hydrated and maintain your pace. If you suffer some major symptoms, you must descend to lower altitudes.
Manaslu Trek with Tsum Valley is another option for Manaslu Himalaya Trekking. This combo trek takes you to the hidden valley of Manaslu Region; Tsum. If you have less time, you can opt for only Tsum Valley Trek too. The Manaslu Trek with Tsum Valley completes within 22 days. Likewise, Tsum Valley Trek will take 17 days to complete. Your journey starts with a scenic drive from Kathmandu to Sotikhola. From there, you reside at settlements like Jagat, Lokpa, Chumling, Nile, Mu Gumpa, Chhokangparo, etc.
The vantage point of Tsum Valley is Mu Gompa at 3700m. Mu Gompa is the biggest monastery in this region. This is also the major highlight of this trek. You get to reside in an ancient monastery that imparts enticing natural scenery. You have the eye-catching view of Mt. Manaslu and its neighboring peaks. The pristine Budhi Gandaki Valley flaunts an unspoiled ecosystem and biodiversity in the best manner.
Location:  South Asia, Nepal
Rank :   The 16th Highest Mountain In The world (7234m)
Trekking Length – from 7 Days to 18 Days
Popular Trekking Trails:  Langtang valley, Gosaikunda, Helambu
Permit:         TIMs Permit, $ 10, Langtang national Park- $ 30,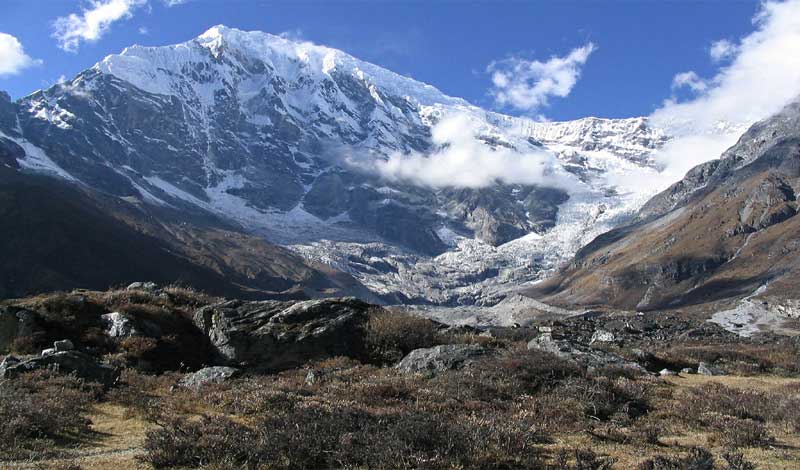 If you wish for an adventure with a peaceful trekking environment, Langtang Himalaya Trekking is your next stop. Langtang Trekking takes you around the spectacular landscapes of the Langtang Region. Due to its enticing natural beauty and scenery, this region is getting popular these days. It lies in the north-central Himalayas within the Bagmati district. This frantic region is only 51 kilometers from Kathmandu.
Langtang Region is one of the unexplored trekking trails of Nepal. Being underrated, you can expect minimal food and accommodation facilities. However, you are not going to regret this adventurous journey. The only reason is its unique geographical and cultural richness. This region also houses Langtang National Park. This NP is Nepal's First Himalayan National Park. With diverse trails, you will witness unseen floral and faunal variety.
Langtang Himalaya Trekking is also famous for multiple trekking options. This region might be the only one where you can explore the real taste of multiple regions in a single trek.
Langtang Valley Trek is a popular choice of Langtang Himalaya Trekking. This valley flaunts diverse vegetation, landscapes, and rich Tamang culture. The maximum point of this trek Tserko Ri at 4948 meters. While the  vantage point is Kyanjin Gompa at 4700 meters. Kyanjin Gompa is a beautiful valley of Langtang region. It is itself a gompa and features numerous ancient monasteries. It showcases the raw and wild Tibetan highlands pertaining to a rural lifestyle. Yet, the locals are hospitable and will give you a heartwarming welcome. You get to soak into Tamang & Gurung culture with them. Along with beautiful glaciers, you get the outstanding panorama of the Annapurna & Makalu.
Langtang Valley Trek is of moderate grade. You can opt for this trek even if you are a novice traveler. You will require a TIMS Card and Langtang NP Permit for this trek.
Other options of Langtang Himalaya Trekking are Gosainkunda Holy Lake Trekking, Helambu Trekking, and Tamang Heritage Trekking. If you are a keen explorer, you can trek all these regions in once. Langtang Gosainkunda Helambu Trek is that exciting and wonderful trek.
Location:  South Asia, Nepal
Rank :  2nd Highest Mountain In The world ( 8586 m)
Trekking Length – from 22 Days to 26 Days
Popular Trekking Trails:  Kanchenjunga base Camp
Permit:         Special permit for 3 weeks $ 60,  national Park- $ 20,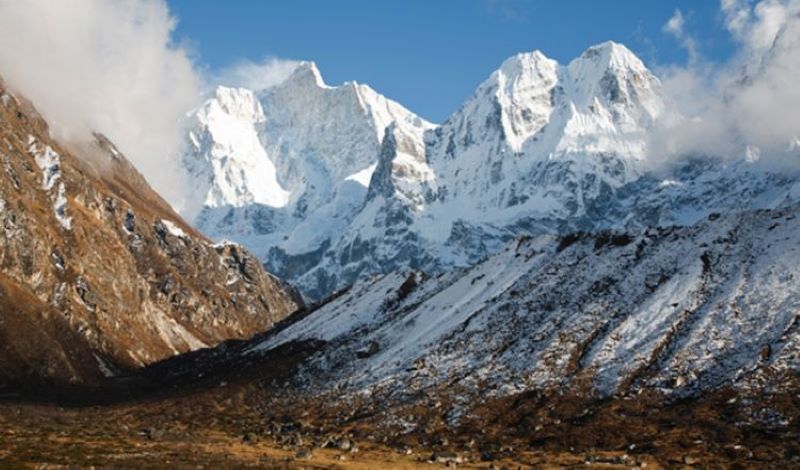 Kangchenjunga Himalaya Trekking is famous for its remoteness among the Himalaya trekking in Nepal. It falls under the less traveled areas of eastern Nepal. If you have explored other famous treks, this could be a perfect spot for you. Also, if you want to be up close with higher peaks by yourself, there is no better option. This Himalaya trekking takes you to the stretches of Kanchenjunga. This region includes both northern and southern base camp of Kanchenjunga. And Mount Kanchenjunga is the world's third-highest peak.
Apart from the majestic panorama, you explore valleys within the border of Sikkim and Tibet. You get the exposure to their unspoiled Tibetan influenced culture and lifestyle. Walking along the rugged terrain, you   witness Asia's most exotic floral and fauna variation. Kanchenjunga is a fascinating and unexplored region of Nepal that can mark a rewarding adventure.
Kanchenjunga Base Camp is one of the demanding treks in Nepal. The highest point of Kanchenjunga Base Camp is Lapsang Pass at 5160 meters. This trek falls under wilderness and tented trek. Thus, you will trek with a group of people that will take care of your camping. This is because it is an isolated region and has fewer homestay facilities.
The major highlight of this trek is the Kanchenjunga Conservation Area. Its altitude ranges from mere 1200 to 8586 meters. This area flaunts cultivated lands, forests, pastures, high altitude lakes, and glaciers. You explore the core remote picturesque villages and the local ethnic groups. Believe it or not, you will have an audacious experience after this trek. But, due to remote trails, it might create various obstacles on your way. But if you push yourself, you will create your ultimate lifetime memory.
You will need the Kanchenjunga Conservation Area permit and Restricted Area permit for this trek. So, this trek requires at least two trekkers accompanied by a professional guide or porter. You also have to make sure you have a reliable trekking agency for trekking in this area.