Everest Base Camp Trek -12 Days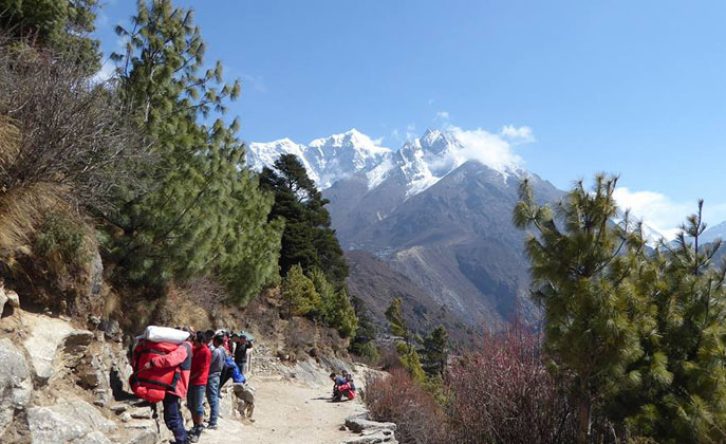 Trip Facts
Mode of Trip:
Tea-House / Lodge Basis.
Best Time to Trek
October , November / March, April
Overview
We have projected 12 Days Everest Base camp Trek package service start from Kathmandu domestic airport to Kathmandu Domestic Airport.   This 12 Days  Everest Base Camp Trekking journey starts from Lukla after 35 Minuit flight from Kathmandu and hike up to KalaPattar reaching at an altitude of 5,500m from where awe-inspiring views of Mount Everest and several peaks close to your eye level. The final destination  is the base camp of Mt Everest. (5356m) where the all climbing starts to scale the world's highest peak. This 12 days Everest base camp itinerary is   Hike to Kalapather and  base camp with  2  acclimation day  so it is relax and comfort itinerary.
The  EBC  Trek  12 days leads you through the Khumbu Valley and follows the footsteps of Sir Edmund Hillary and Tenzing Norge Sherpa. While trekking through the exciting routes, you can experience the immense beauty of the surround World Heritage Site Sagarmatha National Park, outstanding breath-taking vistas of 4 highest peaks in the world. Also you will experience the various Buddhist monasteries, Sherpa culture steeped in history and tradition.
Highlights of EBC  Trek 12 days
Picturesque view of towering snow peaks such as Mt. Everest, Lhotse, Ama Dablam, and Thamserku
Overwhelming and informative tours of popular cultural sites
Incredible places to visit like Namche Bazaar, Dingboche, and Kalapatthar
Glimpses of the gently rolling hills, deep valleys, and gorges
Two days acclimatization
Explore unique traditions, cultures, and lifestyles of people in the Himalayas
Chance to witness rare species of wild animals and birds, including snow leopard, marten, Impeyan pheasant, and  red-billed chough
Trek through Sagarmatha National Park
12 Days Everest Base Camp Trek Itinerary

Day 01: Take morning flight from Kathmandu to Lukla (2,830 m.) and trek to Phakding (2,640 m., 4-hour trek).
Day 02: Trek From Phakding to Namche Bazzar. (3440m 5 hour)
Day 03: Acclimation Day In Namche
Day 04: Trek from Namche Bazaar to Tengboche (3,867 m., 5-hour trek).
Day 05: Trek from Tengboche to Dingboche (4,260 m., 5-hour trek).
Day 06:  Acclimation Day
Day 07: Trek from Dingboche to Lobuche (4,930 m. 5-hour trek).
Day 08: Trek from Lobuche to Gorak Shep (5,170 m.) and continue to Everest Base Camp (5,364 m.,) and return to Gorakshep (6-hour trek).
Day 09: Early morning, hike to Kalapathar (5,545 m.,) and trek to Pheriche (4,240 m. 5-hour trek).
Day 10: Trek from Phireche to Namche Bazzar (3,467 m., 6-hour trek)
Day 11: Trek from Namche Bazaar to Lukla (2,800 m., 6-hour trek)
Day 12: Take flight from Lukla to Kathmandu.
Best time for 12 Days Everest Base Camp Trek

Spring (March, April, May) and Autumn (September to early December) is the peak time for the 12 days Everest Base Camp trek. With warm days and chilly nights, the weather is unreal during the season. The temperature is rising in both seasons, but Autumn is slightly cooler than Spring.
Days are long and bright in Spring with extra hours of sunlight. Autumn has daylight for several hours as well, but it gets dark pretty quick in the evening. There's a blast of cold wind in the air at the mountains in the season.
As the snow melts, spring flowers begin to blossom, making the entire valley beam. The sky is clearer than ever in Spring, making it easier to spot the sweeping landscapes, lofty hills, and mountains even from a distance. Meanwhile, Autumn delights visitors with the vivid bright fall foliage, glistening snow peaks, and steep-sided valleys.
Difficulties of  Everest base camp 12 days

Everest Base Camp Trek is hands down one of the best hikes in the world. It has a moderate hiking trail, which can be navigated even by an amateur. Surely, the courses are long but with improved physical preparation, they can easily get it done. In our 12 days Everest base camp trek, you will have less chance of suffering from altitude sickness as we have arranged two days for acclimatization.
12 days Everest base camp Trek Route
The trails start at Lukla, one of the oldest Sherpa towns. It follows the steep hills off the mountainside and from the bank of Dudh Koshi River. The path takes an uphill climb with a few twists and turns to arrive at Phakding. From here, the trek continues its journey through Sagarmatha National Park and several remote villages.
Crossing the suspension bridge and walking past Jorsale, the trail makes a stop at Namche. Trekkers spend a day in the village to acclimatize and hike Everest Hotel View to have a pre-glimpse of Mt. Everest with Ama Dablam and Thamserku.
The trek from Namche to Tengboche is continuously upward for the first few hours. Once they climb the hill, the trail gets even with a level-ground walk up to Tengboche. Before heading to Dingboche on the next day of the trip, trekkers visit Tengboche monastery.
The walk from Tengboche starts with gently sloping downward, but after crossing the river, the trail gains an elevation once again. Trekkers spend most of their day climbing the route from the edge of the river valley.
They travel rugged hills and stone stairs which could take 6-7 hours. Nestled at 14,468 ft, Dingboche is another popular stop for hikers to adjust to the weather and temperature. To make the most of the day, they visit Chhukhung Valley, which offers a spectacular view of Island Peak, Cho Oyu, and Makalu.
As you finish the day at the village, the trek makes further progress by heading to Lobuche. The trails are rough and unpaved on this section, so it takes approximately 5-6 hours to arrive at the village.
The final push to Everest Base Camp begins with a walk over the loose rocks and boulders. The trail has a series of steep switchbacks which end at Gorakshep, a seasonal rural settlement. The trail continues to walk along the edge of the frozen glacier and onto the rocky hills with debris to reach Everest Base Camp.
Upon arrival at the camp, you'll get a terrific shot of surrounding lofty hills, snow-capped mountains, glaciers, and icefalls. Stunning glimpses of Mt. Everest, Nuptse, Cho Oyu, and Ama Dablam can be witnessed from the base.
After the sightseeing, you retrace the steps back to Gorak Shep and stay overnight here. Early next morning, you'll ascend the rocky hills of Kalapatthar to watch the beautiful sunrise view. After watching the shimmering mountains and snowy ridge, you'll climb down the hills back to Gorak Shep and then to Pheriche.
Out of the Pheriche Village, the trail passes through a lush green forest filled with rhododendron and juniper, crossing the Imja River, the trail climbs down the hills and into the forest before arriving at Namche Bazaar.
Descend gently and meander through the rolling hills and alpine forests on the last day of the 12 days Everest base camp trek. Passing the rural settlements and down the hills, the trail ends at Lukla. At the town, we board the flight to return to the valley.
Trip Detail Itinerary
Cost Include / Exclude
What's included
Airport Transfer –From Our Office  to Airport  / Office ( In Thamel)

Permit: Necessary  All Trekking Permit and company paperwork.
Domestic flight Ticket:  Kathmandu to Lukla – Kathmandu,  Limit weight is 16 kg per person.
 Trekking Guide: An experienced, helpful, friendly, and English speaking trekking guide
Trekking Porter – One porter for 2 members
Guide, Porter  Insurance
Meals -3 meals a day during the trek ( breakfast, Lunch, dinner)
Hot Drinks – Tea / Coffee with Meals
Accommodation in Trekking:  11 Night Twin Sharing Lodge to lodge Accommodation during the trek
Adventure Great Himalaya  Duffel Bag , Sleeping bag ( return after the trek)
Oxe -Meter- To Check your oxygen saturation and heart rating
All Government Taxes and Service charge.
What's excluded
personal Travel insurance and emergency rescue evacuation.
All bar bills, like bottle of drinks, coke ,  hot chocolate etc
Wi-fi, Hot Shower, Electronic device re-charge such as Mobile, Camera etc.
Tips
More Trek Info
Trekking Equipment List
BAG/ RUCKSACK
Duffel bag or rucksack for our porter to take your gear
Day pack for carrying your personal things like Money, Camera, water and snacks etc
Waterproof pack cover or dry bags
FOOTWEAR
Weatherproof walking boots or shoes
Inside footwear (flip flops)
Multiple pairs of warm socks
Lukla Flight  & Weather
The Flight to Lukla or return from Lukla to Kathmandu Might be cancel due to bad weather. It can happen day and day. Even peak season. If your flight is Cancel that means you'll have to reduce the number of days on your trek.
If   Regular flight cancels, there is Helicopter available. Occasionally the planes can't fly but helicopters can; if the trek team prefers this option we can organise it, but there would be a supplemental charge and exact costs can't be guaranteed until the time as prices are based on demand / supply. As an estimate you can expect to pay between $300 – $500pp for a chopper to / from Lukla.  This cost must be paid for by the clients in full at the time
Lukla Flight Weight Limit
They Have limit weight flight o Lukla,  you can take main luggage is 10kg. For hand luggage it is between 6-8kg
Electricity & Plug Sockets
Nepal's Electricity is 220-240 Volts and 50 MHZ (some countries like U.S and Canada are 110-120 volts/60 MHZ). In Nepal electric Plugs are of two or three round prongs and flat prongs are also available in multi-plugs and extension cords. We recommend to take adapter, converter and charger kit if you plan to carry electronic devices in Nepal. You can find these items in electronic store in Kathmandu as well.
Tips

10% of the cost of your trek is the average tips to given your guides and porters; It is kind and respectful amount to pay to your team. You can pay any amount above the minimum as per your service and satisfaction level.
How to book this trek?
When you confirmed or booking the trip, required to paying 25% trip deposit along the copy of passport. After receive it we will send final confirmation letter. Click below link for Booking Terms & Condition
Booking Terms and Condition
Cost & Date
Note: The below Price and Travel date is for the Group Join Basis. If you take private trip all travel dates are guaranteed. Private Trip
| Start Date | End Date | Trip Type | Price | AVAILABILITY | Booking |
| --- | --- | --- | --- | --- | --- |
| Sun, 17 Mar, 24 | Thu, 28 Mar, 24 | Group Join | $ 1090.00 | GUARANTEED | Book Now |
| Tue, 26 Mar, 24 | Sat, 6 Apr, 24 | Group Join | $ 1190.00 | GUARANTEED | Book Now |
| Sun, 7 Apr, 24 | Thu, 18 Apr, 24 | Group Join | $ 1190.00 | GUARANTEED | Book Now |
| Sun, 14 Apr, 24 | Thu, 25 Apr, 24 | Group Join | $ 1190.00 | GUARANTEED | Book Now |
| Sun, 21 Apr, 24 | Thu, 2 May, 24 | Group Join | $ 1190.00 | GUARANTEED | Book Now |
| Sun, 28 Apr, 24 | Thu, 9 May, 24 | Group Join | $ 1190.00 | GUARANTEED | Book Now |
| Sun, 5 May, 24 | Thu, 16 May, 24 | Group Join | $ 1090.00 | GUARANTEED | Book Now |
| Sun, 12 May, 24 | Thu, 23 May, 24 | Group Join | $ 1190.00 | GUARANTEED | Book Now |
| Mon, 13 May, 24 | Fri, 24 May, 24 | Group Join | $ 1090.00 | GUARANTEED | Book Now |
Gallery